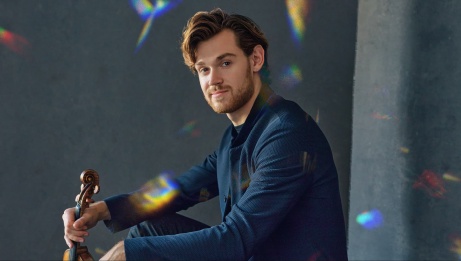 Music
Classical music
Masterworks
Violin
The paranoid and cruel sultan Shahryar has a bad habit of marrying then murdering a different bride every night—until a beautiful and well-read woman named Scheherazade tricks the obsessive ruler and saves her own life by enchanting him with stories that last 1001 nights.
Russian composer Nikolai Rimsky-Korsakov's Scheherazade captures the passion of the Middle Eastern tale One Thousand and One Nights by weaving a musical tapestry that includes characters like Aladdin, Ali Babba, and Sinbad the Sailor, but Rimsky-Korsakov named his epic orchestral work after the true star of the fable—the wise and wily Scheherazade, a gifted and enigmatic storyteller.
Russian composer Piotr Ilych Tchaikovsky had just fled a short and ill-fated marriage when he wrote his Violin Concerto,which was panned by critics when it finally premiered in Vienna. He went to his grave never knowing that it would be cherished by solo concert violinists the world over. Canadian violinist Blake Pouliot, a classical music phenomenon who last appeared with NACO during its 2022 Truth in our Time tour, returns to the NAC to perform Tchaikovsky's one and only violin concerto.
The music of Iranian American composer Gity Razaz has been called "ravishing and engulfing throughout" (The New York Times) and her works have been commissioned by orchestras, concert soloists, choreographers, and others around the world, all eager to perform her music. The NAC Orchestra is pleased to present the Canadian premiere of Razaz's newest work for orchestra, Methuselah, commissioned by the League of American Orchestras with the generous support of the Virignia B. Toulmin Foundation.