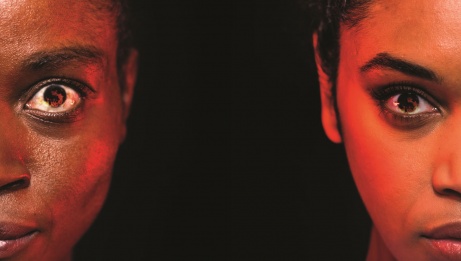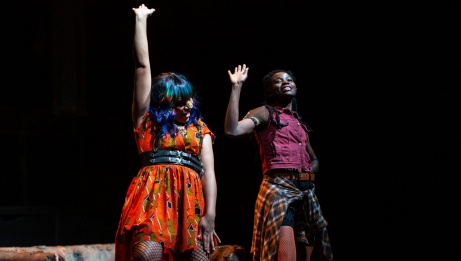 "Is God Is sees fit to bring down the house." The New York Times
In-person event

English

≈ 90 minutes · No intermission
Mature themes
Strong language
An NAC presentation of the Obsidian Theatre, Necessary Angel, Canadian Stage production.
Curated by Black Theatre Workshop.
Twin sisters Anaia and Racine are on a quest for peace. And they are willing to kill for it.
She is a God to her twins, Anaia and Racine — a god of vengeance. And She will only be satisfied when their daddy is very, very dead.
The sisters are sent on a quest from the South to a sleepy California desert city to fulfill their mother's command. And the secrets that set fire to their family ties are revealed, allowing us to understand and experience satisfaction through sacrifice, and relief through revenge.
Is God Is is a dark, award-winning tragicomedy that channels Tarantino as much as Sophocles, driven by our sweet, spiteful heroines who are both victims, and vigilantes.
All tickets are $15 for our preview performance on February 9.
Content warning: This play includes depictions of: violence, death, murder, fire, burns, blood. As well as references of domestic violence, familial and generational abuse, and depictions and references of suicide, and emotional abuse by a parent.
Is God Is is presented by arrangement with Concord Theatricals on behalf of Samuel French, Inc. www.concordtheatricals.com
---
Black Out night at NAC
On February 17, the evening's performance of Is God Is will introduce the first of two Black Out nights that will be at the NAC this year. A Black Out is an open invitation to Black-identifying audiences to come and experience performances with their community. The evenings will provide a dedicated space for Black theatregoers to witness a show that reflects the vivid kaleidoscope that is the Black experience. Everyone is welcome at all our shows.
Creating evenings dedicated to Black theatregoers will allow for conversation and participation to be felt throughout the theatre and open the doors for Black-identifying audiences to experience the energy of the NAC with a shared sense of belonging and passion.