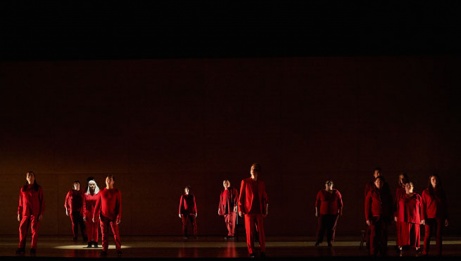 "We have to understand that cultural appropriation is institutionalized, it is the very foundation of what Canada is built on. And not just cultural appropriation, but appropriation of all things Indigenous: our lives, our lands. This is what this nation was founded on. It was the policy of the government to do this. To ignore, to pretend now, that we somehow have moved on beyond this and that somehow we're all on equal footing and thus we can all share equitably is to fail in your responsibility as a storyteller."

— Film critic Jesse Wente

The issue of appropriating Indigenous images, stories, and music has been the topic of much recent conversation, as has the question of who has the right to speak for Indigenous experience. The history of the opera Louis Riel is part of this debate, since the "Kuyas" aria, which opens Act III, uses without consent a lament song belonging to the Nisga'a people. The "Song of Skateen," a Nisga'a mourning song, was used by composer Harry Somers without knowledge of Nisga'a protocol that dictates such songs must only be sung at the appropriate times and only by those who hold the hereditary right to sing them. Director Peter Hinton's staging of Louis Riel features Indigenous performers predominantly in the Land Assembly, yet the question remains: what actions are necessary to decolonize opera as an art form? What might an opera on Louis Riel sound like from an Indigenous perspective? This panel brings together Indigenous scholars, artists, and performers to discuss their responses to the opera, their participation in it, and issues of appropriation and Indigenous leadership across the arts.
Led by Dylan Robinson, a Stó:lō scholar and Queen's University's Canada Research Chair in Indigenous Arts, the panel features Nisga'a dance group leaders Goothl Ts'imilx Mike Dangeli and Wal'aks Keane Tait; and Métis performers Cole Alvis and Jani Lauzon who perform in the opera.
Guests in attendance will have the opportunity to hear from each panelist and to pose their own questions to the group.
Please note, the discussion will be in English only.
The National Arts Centre is located on the traditional territory of the Algonquin Nation.
---
If you are interested in the history of Louis Riel, you may also be interested in the following events:
Louis Riel, an all-new production of Harry Somers' opera with the NAC Orchestra, June 15 - 17
Dear John, Louis David Riel, a performance piece by Métis artist David Garneau on Parliament Hill