Shelley and Pepe Romero
Casual Fridays with the NAC Orchestra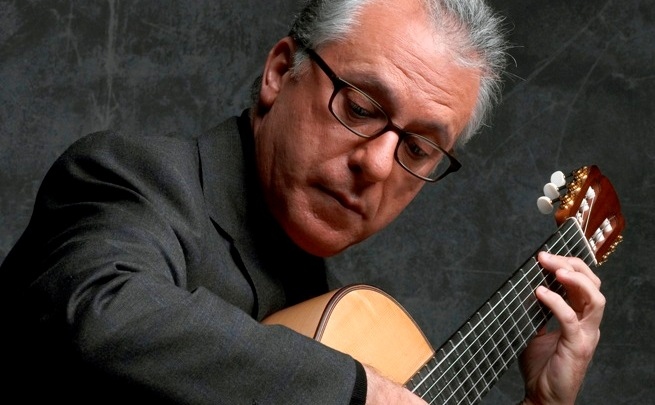 Pepe Romero
Walton Symphony No. 1 (excerpts)
Nicole Lizée Zeiss After Dark: SESQUIE for Canada's 150th
Walton Suite from Henry V
Rodrigo Concierto de Aranjuez for Guitar and Orchestra
It is with regret that Miloš has had to cancel his remaining concerts for the rest of the season on his doctor's advice due to a physical condition that has affected the movement in his arm. The world premiere of the new guitar concerto written for him by esteemed composer Howard Shore will be rescheduled for February 2019 at the National Arts Centre. All the artists involved, including Howard Shore, conductor Alexander Shelley and the National Arts Centre Orchestra, wish Miloš a very steady recovery and a successful return to performing.

---

Son of one of the greatest guitarists that ever lived, Celedonio Romero, legendary Pepe Romero performs the Concierto de Aranjuez by Joaquin Rodrigo with Alexander Shelley and the NAC Orchestra. A special addition to the program is a short new work by Nicole Lizée, inspired by cinematography techniques.

*World premiere

Media Partner: Jewel 98.5
Proud Partner: Ottawa Citizen
Music. Food. Wine. Friends.
A Perfect Way to Enjoy it All.
Unwind at the end of your week with our wildly popular casual Fridays!
5PM Pre-concert reception in Southam Hall Lobby, OPEN TO ALL whether or not you attend the concert. Enjoy cocktails and tapas, available for purchase, and live jazz. All tapas are prepared by the NAC culinary team drawing inspiration from individual Casual Fridays concerts for an original and authentic flair. You can purchase tapas tickets onsite the night of the concert at a price of $8 per tapa. Tickets are valid for any Casual Friday performance during the 2016/17 season.
7PM 90-minute NAC Orchestra concert without intermission. Each invited guest concert host connects with musicians to provide a deeper understanding of the music and lets you experience the orchestra in a directly personal way.
8:30PM Post-concert reception in the Main Lobby. Mix and mingle with fellow music lovers and NAC Orchestra musicians.
Tonight's menu features:
DF = Dairy Free // GF = Gluten Free // V = Vegetarian
1. Smoked mackerel - confit tomato - pickled cucumber - feta cheese - GF
2. Beef goulash - soft polenta - roasted garlic Balkan yogurt - GF
3. Herbed panisse "chickpea fries" - capsicum relish - V, GF, DF
4. Roasted lamb shoulder - preserved lemon and black olive tapenade dry red wine jus - GF, DF
5. Chickpea & potato Cornish pasty - smoked tomato catsup - V
6. Lump crab cake - roasted eggplant puree – paprika aioli
_____________

The Bravo Series version of this performance will take place on February 23, 2017 and will begin at 8 p.m.