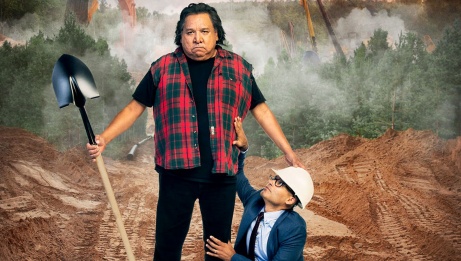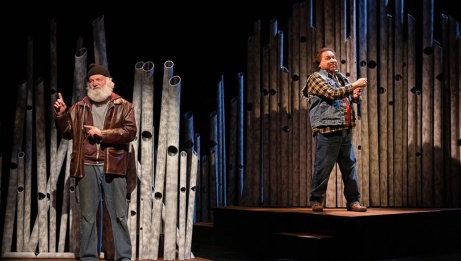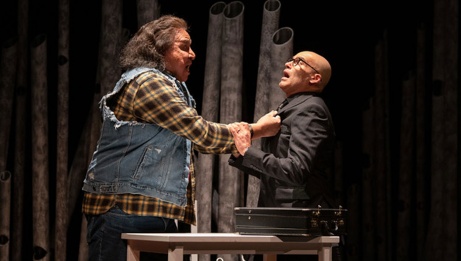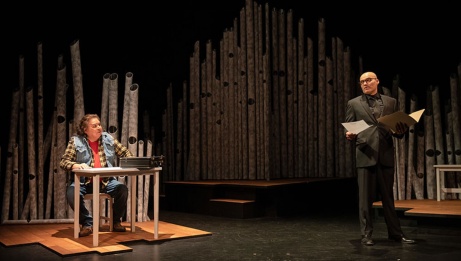 Indigenous arts
Theatre
Comedy
"Little Red Warrior and His Lawyer is so relentlessly irreverent and surprising... For the majority of the show, I was grinning my face off." Colin Thomas
In-person event

English

≈ 85 minutes · No intermission
Sexual content
Strong language
Flashing lights
NAC Indigenous Theatre in association with Theatre Calgary presents the Belfry Theatre and Savage Society production of Little Red Warrior and His Lawyer.
From director and Governor General's Award-winning playwright Kevin Loring of the Nlaka'pamux Nation comes a wickedly funny satire about power, politics, and procreation.
Little Red Warrior, the last remaining member of the Little Red Warrior First Nation, discovers construction has begun on his ancestral lands. In a fit of rage, he attacks an engineer, gets arrested, thrown in jail, and assigned a court-appointed lawyer, Larry. Much to the dismay of his wife, Larry invites a displaced Little Red Warrior to stay with them. But when you invite a coyote into your coop, he might just walk away with your chickens.

Audience Advisory – contains adult situations and sexual themes, strong language and profanity, and brief use of strobe lighting. Recommended age: 16+
---
Thursday May 25th we are having a special lawyer networking event pre-show (6-7:20pm) in Le Salon. Please RSVP to the networking event by emailing jenna.spagnoli@nac-cna.ca by noon May 25th!