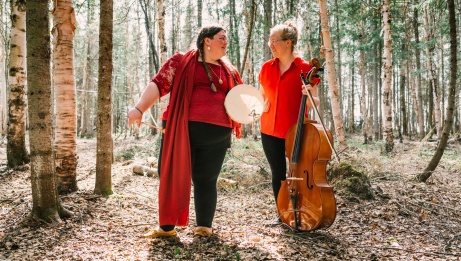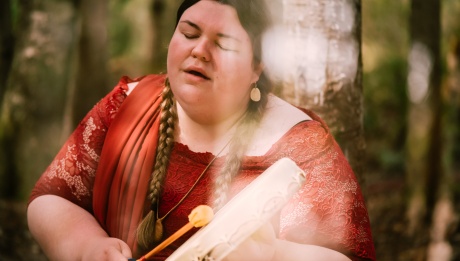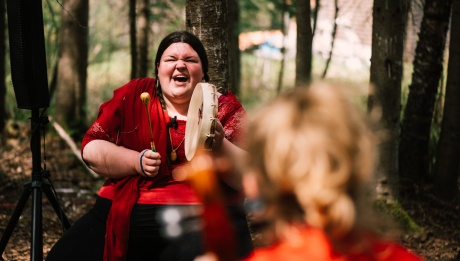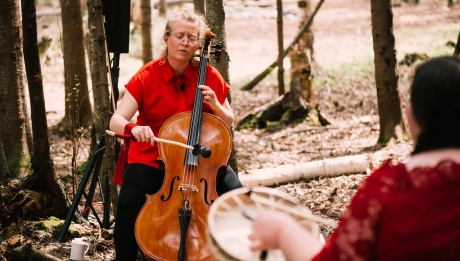 "The rustling of the trees "
In-person event

Ages 2-5

≈ 30 minutes · No intermission
Without words ● 18 months and older
A joyful mix! A Polish-born director, an Indigenous performer and a musician from Abitibi: three women who join forces to create an enthralling forest show. At the foot of the majestic trees, we are all children of the world.
Imagine a show, but in the form of a forest, a parent-child gathering under a quiet canopy. You're part of the set; you can sit and listen to the warm and soothing voice of Franco-Anishinaabe actor and musician Emily Marie Séguin. You can also let your body resonate to the incredible range of sounds that Abitibi cellist Marie-Hélène Massy Emond coaxes from her wooden instrument. Guided by the wisdom of the traditional medicine wheel, the two artists will weave seasons of sound filled with textures and flavours to be experienced with all five senses.
The creative team from the Voyageurs Immobiles company promises you a forest, but not just any forest: one that will leave you feeling a little happier and more alive!