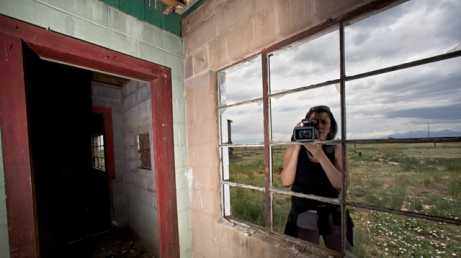 English

≈ 80 minutes · No intermission
Based on the original production commissioned and produced by Presentation House Theatre (Vancouver, BC)
NAC English Theatre / Great Canadian Theatre Company (GCTC) co-production in association with Red Diva Projects

In 1930, photographer Edward Curtis' landmark series, The North American Indian, recorded for posterity what he termed a "vanishing people". Decades later, Metis/Dene playwright Marie Clements and Canadian documentary photographer Rita Leistner went in search of those same First Nations peoples and communities. Their three-year journey has become a visually stunning, thought-provoking drama. Present-day Aboriginal journalist Angelina – traumatized by chronicling the freezing death of three Native children – interacts with Curtis' photo images and the controversial man himself, questioning the ethics of her work and assessing the collateral damage of being a witness.

This production will be staged at the Irving Greenberg Theatre Centre, home of the GCTC, 1233 Wellington Street West (at Holland), Ottawa.

The Edward Curtis Project Exhibit by Rita Leistner
One of Canada's foremost documentary photographers, Rita Leistner's exquisite photographs created during the fieldwork of The Edward Curtis Project will be on display in the Lorraine 'Fritzi' Yale Gallery, upper lobby of the Irving Greenberg Theatre Centre beginning April 2.
The View From In Here
The Great Canadian Theatre Company and the National Arts Centre partnered with the Urban Aboriginal Alternative High School and their students on a photography project and exhibit called The View From In Here. The photography exhibit was created by and for the aboriginal students. This project served as a traditional teaching tool for value and community-based learning.
Students were given a camera, and each were asked to go into the community and to answer the question "What does being an Aboriginal, First Nation, Inuit or Métis, look like to you?" The students were challenged to think creatively and give thought to what defines them and how to capture it in photographs. This is a project that inspires pride in community and the student's personal accomplishments and may spark a lifelong interest and career in photography.
The exhibit will be open to the public from March 27 until April 21 in the Studio foyer of the NAC.
Rush Ticketing
Live Rush will be available at GCTC for the run of The Edward Curtis Project.
GCTC offers last minute Rush Tickets as of noon the day of each performance.
These tickets are subject to availability and can only be purchased in person at the box office.

Adult Rush: $25.00*
Student Rush: $13.00* (with a valid student I.D.)
* All prices include HST *