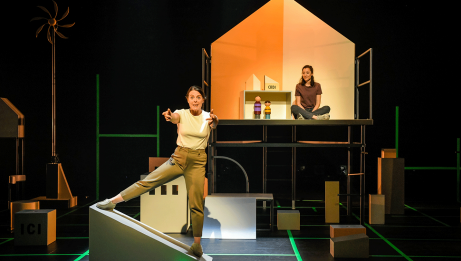 Family programming
Theatre
Drama
"Rose in the Machine is extremely touching." Jeu revue du théâtre
In-person event

English

Ages 14+

≈ 1 hour and 55 minutes · No intermission
NAC English Theatre Presentation
An NAC English Theatre/NAC French Theatre presentation of the Porte Parole production
Inspired by the writer's own life experience, Rose in the Machine is the heartfelt and intimate journey of a mother seeking to understand her daughter's autism, offering a compassionate window into the polychromatic shades of experience for families with neurodiverse children in Quebec.

In navigating the many obstacles thrown in her path by our healthcare and education systems, Rose's mother breaks through pervasive barriers to arrive at an enlightened epiphany, and ultimately, hope for the future.
At once intimate and epic, introspective and outward-looking, this award-winning play critiques the opacity of our social systems while rendering transparent the multi-hued world of the neurodiverse.
The French language version of the play, Rose et la machine, will be presented by NAC French Theatre from April 25-27, 2024.