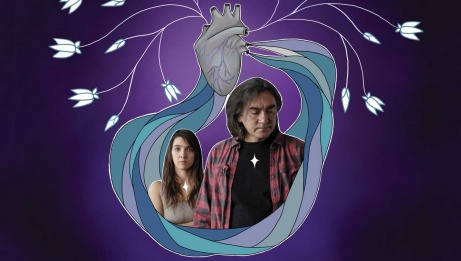 Indigenous arts
Theatre
Drama
Comedy
Festival events
≈ 2 hours · No intermission
Co-presented in French with Zones Théâtrales
a Menuentakuan production in collaboration with Teesri Duniya Theatre
Can a person survive their past? Can a people survive their history? Irreverently funny and brutally honest, Where the Blood Mixes is a story of loss, resilience, and redemption set in the heart of the Fraser Canyon.
Caught in a shadowy pool of pain and guilt, Floyd has lost everyone he holds most dear. Now, after more than two decades, his daughter is returning home to confront him. Set during the salmon run, Where the Blood Mixes takes us from the bottom of the river to the resilient spirit of a people.
Winner of the 2009 Governor General's Literary Award for Drama, this is a transformational story of tragedy and hope, told with grace, wit, and humour.
Translated into French by Charles Bender, Where the Blood Mixes / Là où le sang se mêle, will be presented in French and English.
All shows will end with a sharing circle with the public.
This translation was developed with the support of The Glassco Translation Residency in Tadoussac through Playwrights' Workshop Montréal.
---
chkA.a ksh woomahhnwAlhnsh a TLoo.shkAywuh tOOwa shptaksh
chkA.a ksh woomahhnwa-ndEEyhhsh a shAytknmahh ash woo.Ahht-nsh
kee.kEE.t alh quOOmquemt pa tee.tAwuh
Where The Blood Mixes, a shptaqulh lh ahh pee.EEp alh pa-nt lh TSeeyOOsh
nA.a na TLKemchEEn a peelahhadEEyhhshoosh
Nlaka'pamux translation