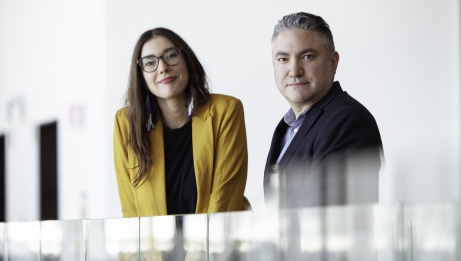 Indigenous arts
Talks
Festival events
Dive deeper into the work of exceptional Indigenous performers, creators and collaborators working on stage, behind the scenes and in communities. Join us and discover how artists come together to build incredible stories reflecting who they are and where they come from. Each Story Building session connects us with an artist involved in Indigenous Theatre's 2019/2020 season. Whether you're joining us for a performance or not, you're welcome to gather and be transformed by the power of Indigenous arts!
Tonight the spotlight is on Where the Blood Mixes/ Là où le sang se mêle. Stay tuned for more details on which artists our Story Building session will highlight!
Mòshkamo Story Building- Conversations on Indigenous Arts is part of the exciting all-Indigenous programming taking over the NAC's performance and public spaces September 11-29, 2019. This premiere Indigenous Arts Festival, Mòshkamo, celebrates the inaugural season of NAC's Indigenous Theatre and the resurgence of Indigenous Arts. Learn more at MoshkamoFestival.ca.
This talk pairs with the following events: