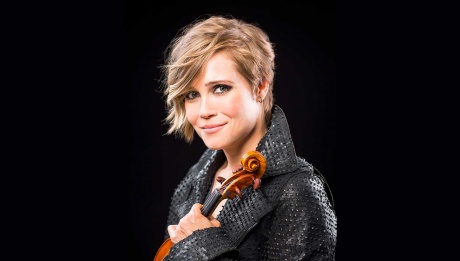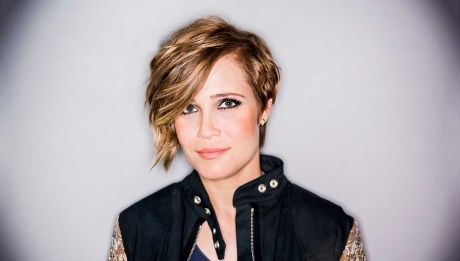 James MacMillan Woman of the Apocalypse
Thomas Adès

Violin Concerto, "Concentric Paths"
≈ 1 hour and 30 minutes · No intermission
Your Friday, June 7 Leila Josefowicz concert experience includes:
- Pre-concert 5 à 7 with music from the Horn Stars in the Southam Hall Lobby. Tapas and drinks available for sale.
- 90-minute concert without intermission.
- Post-concert party in the Main Foyer with DJ.
For details on the Thursday, June 6 Leila Josefowicz concert click here.
Adventurous and hugely gifted violinist Leila Josefowicz wows audiences with her unparalleled prowess and energy. With Leila, guest conductor Joana Carneiro, and the NAC Orchestra, come experience two seminal works by the best of today generation of British composers. In this Casual Friday concert, we'll hear musicians' own takes on tackling brand new music – along with anecdotes of the good, the great, and the impossible.
Composer James Macmillan drew inspiration for his Woman of the Apocalypse from the mysticism of art by the likes of Rubens, Doré, and Blake. In this dramatic, almost hallucinogenic, orchestral piece, the enigmatic "woman clothed by the sun" from the book of Revelation does fierce battle with a dragon before triumphing and ascending into heaven. Alongside the images that inspired MacMillan's work, this is a provocative and epic creation, no less fevered than the paintings that inspired it.
Thomas Ades's Violin Concerto: Concentric Paths is an equally energetic and atmospheric piece filled with dense layers of emotion, drama, and beauty.
Music. Food. Wine. Friends.
A Perfect Way to Enjoy it All.
Unwind at the end of your week with our wildly popular Casual Fridays!
5:30 PM Pre-concert 5 à 7 with music in the Southam Hall Lobby, OPEN TO ALL whether or not you attend the concert. Enjoy cocktails and tapas, available for purchase. All tapas are prepared by the NAC culinary team drawing inspiration from individual Casual Fridays concerts for an original and authentic flair. You can purchase tapas tickets onsite the night of the concert at a price of $8 per tapa. Tapas Tickets can also be purchased in advance through your my NAC Account or at the box office (4 tapas tickets for $30). Tickets are valid for any Casual Fridays performance during the 2018/19 season.
7 PM 90-minute NAC Orchestra concert without intermission. Each invited, guest concert host connects with the artists on stage to discover more about them and the music. Side screens give the audience a chance to get up close and personal with the evenings performers.
8:30 PM Post-concert party in the Main Foyer, OPEN TO ALL whether or not you attended the concert. Mix and mingle with fellow music lovers and NAC Orchestra musicians!
Concert made possible in part through the Friends of NAC Orchestra Kilpatrick Fund