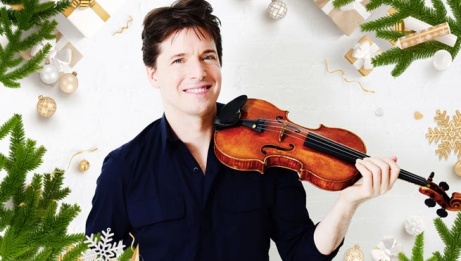 Family programming
Music
Classical music
Violin
Vocal
Holidays
"It was a strange feeling, that people were actually, ah...ignoring me." Joshua Bell, Washington Metro, January 12, 2007
Bilingual

≈ 2 hours · With intermission
Canadian Premiere
NAC Co-commission
This concert begins at 7 p.m.
A holiday concert for the whole family!
The whimsical story at the heart of The Man with the Violin performance is anchored in an evening of Christmas magic. The Choirs of Christ Church Cathedral lead the evening's programme with a selection of holiday choral classics including HARK! The Heral Angels Sing and Silent Night.
After a sold-out premiere at the Kennedy Centre in Washington, DC, the spectacular multi-media show The Man with the Violin* comes to Ottawa for its Canadian debut. Composer Anne Dudley brilliantly transforms Kathy Stinson and Dušan Petričić's award-winning children's picture book, telling the true story of how world famous violinist Joshua Bell performed as a street musician for an hour in a bustling subway in Washington, D.C. While more than a thousand people passed, only seven stopped to listen to him play. Bell noticed that children often wanted to stop and listen, but parents pulled them away as they rushed to their destination. Experience what Joshua Bell's concert in the subway might have felt like, through the eyes of a curious child. With colourful video animation and a star performance by Bell himself, The Man with the Violin works its magic on audiences both young and old.
Come Early!
10 years ago, when world-famous violinist Joshua Bell busked in a Washington subway Station, thousands of passersby walked on without so much as a glance. We invite you to our public spaces before the evening's performance, where you can relive the harmonious cacophony of the subway station.
From 6:15 to 6:45 p.m., you will find a mix of talented musicians hidden unexpectedly throughout the building, busking their hearts out for everyone who'll listen. Make sure to arrive early so that you can find them all, and enjoy a rare moment of childlike joy and whimsy.
CITY ROOM / G&T STAIRCASE: Les bécarres (vocal group)
JOSE'S LOUNGE : Hibernia (voice and harp)
PARKING LEVEL 3 AT BOTTOM OF CANAL LOBBY ESCALATORS: Baobab drumming group
CANAL FOYER: North String Quartet (violin, viola and cello)
BALCONY FOYER: Reeds on Strings (violin, viola and cello)
Join us after the concert! Joshua Bell along with Kathy Stinson, author, and Dušan Petričić, llustrator of the children book The Man with the Violin, will be available to sign autographs.
The Friends of the NAC Orchestra are pleased to hold a spectacular silent auction on December 20 in the Southam Hall Foyer of the NAC in conjunction with this NAC Orchestra concert. Bid on outstanding and unique donated items from across Canada and from around the world. Proceeds benefit the Friends of the NAC Orchestra's commitment to music education programs for young people. Help us build a fantastic future for music in Canada!
Concert made possible in part through the Friends of NAC Orchestra Kilpatrick Fund
*Canadian premiere; NAC Orchestra co-commission with the Kennedy Center for the Performing Arts
Based on The Man with the Violin © 2013 Kathy Stinson (text); Dusan Petricic (illustrations); Joshua Bell (postscript); published by Annick Press Ltd.