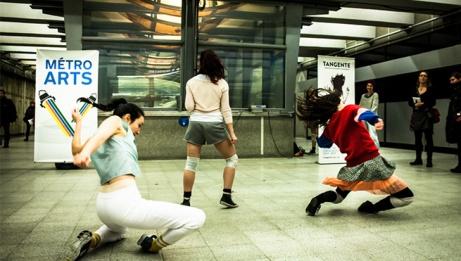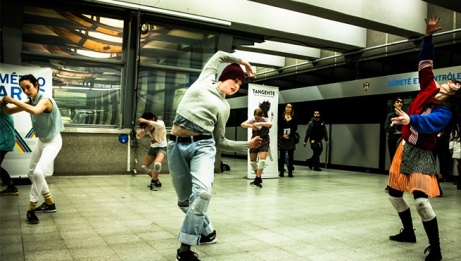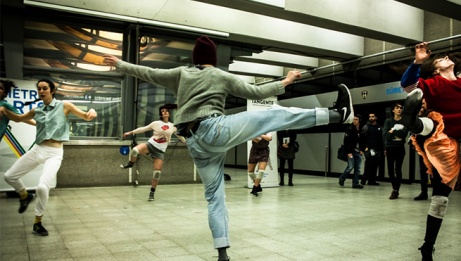 Free performances today by Aeriosa Dance are cancelled due to the sinkhole. Free pop-up performances by La Grande Fente will proceed as scheduled in the Byward Market.
The CDF is thrilled to partner with the ByWard Market to present an afternoon of free outdoor dance programming, featuring Aeriosa (BC) and La Grande Fente (QC).
Aeriosa
With their unique crowd-stopping aerial works – choreographed dancers suspended from the side of downtown buildings or natural features – Aeriosa combines artistic practice, athletic discipline and thoughtful risk management to reveal unusual perspectives of human existence in natural social and built environments. Creating choreography on location in relation to architecture and landscape, their work transforms urban neighbourhoods into theatres and explores wild environments as dramatic stages for live dance.
Catch a glimpse of the artistic creation process throughout the day on June 8th, as Aeriosa creates this new work on the side of The Bay near ByWard Market (George St).
La Grande Fente (Pop-Up Dances)

A new and refreshingly irreverent approach to choreography is the hallmark of Montreal-based Isabelle Boulanger and her all-female company, La Grande Fente. Following their Ottawa debut in 2015, when they performed their first series of 'Pop-up Dances', the company returns to perform a new series of choreographies created just in time for the CDF. The works are lighthearted and funny, contrasting high-energy leaps with effortless loose-limbed swaggers and just a bit of satire.
Separately, La Grande Fente present their full-length work Sans Lactose in theatre at La Nouvelle Scene on Friday, June 10th; details here.
CDF in the ByWard Market – Schedule:
11:30 – La Grande Fente Pop-ups
11:45 – La Grande Fente Pop-ups
12:00 – Aeriosa at ByWard Market Square
12:15 – La Grande Fente Pop-ups
12:30 – Aeriosa at ByWard Market Square
12:45 – La Grande Fente Pop-ups
13:15 – La Grande Fente Pop-ups