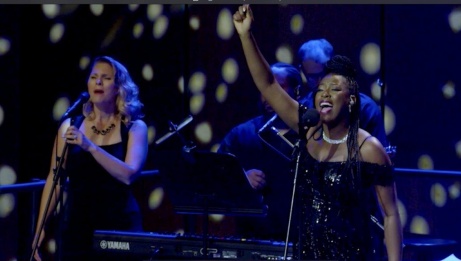 Music
Classical music
Vocal
Singer/Songwriter
Pop
Roots music
In-person event

Bilingual

Ages 12-17

Approx. 1 hour
| Performance options | Start time | Language | Availability |
| --- | --- | --- | --- |
| Thursday, February 23, 2023 | 11:00 am | bilingual | Seats available |
Learn about the people, sounds, and stories of Reggae
Experience the evolution of Jamaica's most famous export in Reggae Roots, and discover the people, sounds, and stories of the musical movement that grew to influence music around the globe.
Hailed as reggae-roots royalty, Jamaica-born, Halifax-based vocalist Jah'Mila finds her groove with conductor Daniel Bartholomew-Poyser and Canada's National Arts Centre Orchestra in a program that reflects on the social, cultural, and spiritual importance of the magical musical genre that has shaped Jamaica and touched the world.
Presented in association with the NAC Orchestra's POPS series.
FREE RESOURCES FOR TEACHERS
In advance of attending the Reggae Roots student matinee concert, be sure to access the free six-part video on-demand learning series that includes free study guides and a classroom teaching aid!
Reggae Roots Orchestra | National Arts Centre (nac-cna.ca)
_________________________________________________________________________________
Let your students experience one of the most outstanding ensembles of its kind in the world!
The NAC Orchestra boasts many of the finest musicians in the country who enthusiastically share the common goal of bringing music to young people. Perfectly suited to both the novice student and musical apprentice, this weekday matinee is bound to delight students and teachers alike!