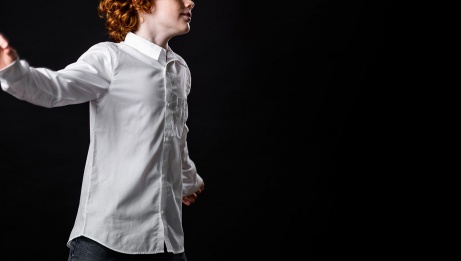 "gorgeous and moving" The Independant
In-person event

English

≈ 2 hours and 30 minutes · With intermission
Mature themes
Sexual content
Strong language
Haze
NAC Premiere
An Artistic Fraud production
In 2013, Nova Scotian choral conductor Scott Jones was left paralyzed after a homophobic attack. Soon after, his story reached international attention for a remarkable reason: he chose to publicly forgive his attacker.
Headlines ran all over the world inspiring thousands moved by Scott's uncommon act, including Artistic Fraud who approached him to co-create a piece of theatre based on his experience.
The story of I Forgive You cuts straight to the heart of mercy and is accompanied by a children's choir singing the music of Sigur Ros, conducted by Scott himself live on stage in this brilliant braiding of rich theatrical invention and searing unavoidable truth.
All tickets are $15 for our preview performance on March 1.
Content warning: this play includes brief sexual content (referenced), homophobia, references to death/murder, detailed descriptions of physical violence, detailed descriptions of medical trauma, medical procedures, and bodily fluids, references to drinking and other substance use, strong language. There is also use of special effect haze in this production.