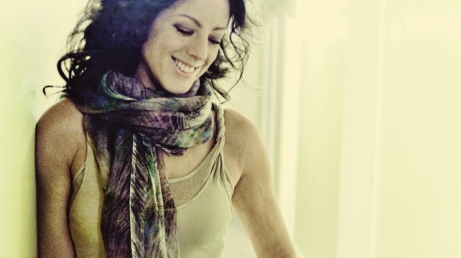 One day, not that long ago, Sarah McLachlan gave an advance copy of her new album Shine On to a friend who was about to set out on a road trip. "She said she listened to it on repeat throughout the whole drive; she laughed, she cried, she sang at the top of her lungs, and went through the gamut of emotions." McLachlan says. "That seemed like the perfect reaction to me. I want to make people feel, because I write from such an emotional point of view. That's what music does for me; it brings me closer to my feelings and puts everything out on the surface. A good song will bring up anything that has been pushed down and force you to feel it."
Largely produced by McLachlan's longtime collaborator Pierre Marchand, Shine On is McLachlan's 7th full-length album. This new album finds the musician in a ruminative, yet hopeful place. Unlike its predecessor, which dissected the dissolution of her marriage, Shine On eases up on the heartbreak and lets McLachlan — who has been somewhat defined by such signature ethereal ballads as "Building A Mystery," "Adia," "Angel," and "I Will Remember You" — show an earthier side, especially on the up-tempo first single "In Your Shoes," and the atmospheric rockers "Flesh and Blood" and "Love Beside Me," the latter two of which were produced by Bob Rock (Metallica, Ron Sexsmith).
"I needed to challenge myself a lot," she says. "I needed to step outside my comfort zone. For that reason, I made an effort to write with people I hadn't written with before and to try different producers, like Bob Rock, to take some of the songs in a different direction. He brought a lot of raw energy. He put an electric guitar in my hands and reminded me of how much I miss playing it."
Shine On speaks to the fact that life is a struggle, and it's about what we do with the hidden gems that are there for us at every turn – if we choose to seek them out.The thread on this new album, which will be released by McLachlan's new label Verve Music Group, is her intimate voice (which The New York Times once called "pop's voice of compassion and consolation") and the fact that so many people can remember the musical backdrop to the hard times in their life; break-ups, loss, and heartbreak, and they all have a McLachlan song that was particular to their healing.
Sarah has sold over 40 million albums worldwide, won three Grammy Awards and eight Juno Awards, and was a founder and the face of the Lilith Fair tours, which showcased female musicians and raised over seven million dollars for local and national charities. McLachlan is also the founder of the non-profit organization the Sarah McLachlan School of Music, which provides free afterschool music education for at-risk and underserved kids who otherwise would have no access to music programming.
In June, McLachlan will hit the road "I love playing live and I'm very excited to get these songs into the hands of some great musicians and let them breathe fire into them, especially some of the more aggressive ones on the new album," she says. "I love making records, and going through the process of discovery, but I like playing live even better, because you've got the song, you know it's great, and you get to take it someplace else. You get to experiment and be in the moment with it. That's everything to me."