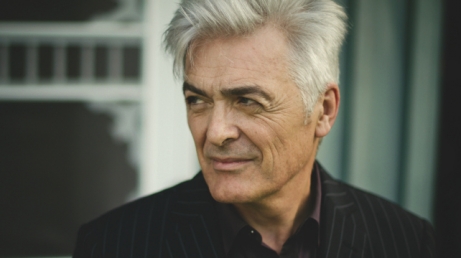 Singer-songwriter Daniel Lavoie's career took off in 1979 with the release of his third album, Nirvana bleu. The singles "Angéline," "La danse du smatte" and "Boule qui roule" received extensive airplay, and in 1980 and 1981 Daniel won the first of many Félix awards (presented by the Association québécoise de l'industrie du disque, du spectacle et de la vidéo/ADISQ) for Male Performer of the Year.
He has participated in several major projects, notably the blockbuster musical Notre-Dame de Paris (from which the single "Belle" sold three million copies in Europe in 1998) and Douze hommes rapaillés, a moving collective tribute to Quebec poet Gaston Miron that won the 2010 Félix for Show of the Year – Performer and the 2011 Félix for Album of the Year – Contemporary Folk.
In November 2011 he released his 22nd album, J'écoute la radio, a retrospective of his 40 year career that includes new arrangements of 11 of his greatest hits, from "Ils s'aiment" to "Je voudrais voir New York" by way of "Tension Attention" and "Où la route mène." It's a masterful recording and a fitting showcase for Daniel's stature as a singer-songwriter, his powerful lyrics backed by lush and skilful new arrangements, and his unique voice that's as compelling as ever.