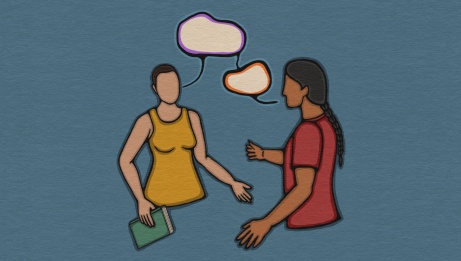 In-person event

English

≈ 1 hour · No intermission
In connection with the Beyond Words: Dictionaries and Indigenous Languages Pop-Up Exhibit, join us for this panel discussion about the complex relationship between Indigenous languages and dictionaries over several centuries, from word lists and dictionaries developed for exploration, colonization, conversion and assimilation purposes, to online language materials being developed by Indigenous communities to transmit the elders' language knowledge to today's youth.
Hosted by NAC Indigenous Theatre Artistic Director Kevin Loring with special guests Marie Odile-Junker and Danielle Printup.
Marie Odile-Junker
As a linguist and lover of linguistic diversity, Dr. Marie-Odile Junker (Carleton University) is active in Indigenous language documentation, maintenance, and revitalisation. She uses a participatory-action research framework to work with communities and individuals interested in maintaining their language and seeing it thrive in the 21st century. Exploring how information and communication technologies can help Indigenous languages, she has developed several websites and co-edited online dictionaries for languages of the Algonquian family (Cree, Innu, Atikamekw). She is leading the co-creation of the Algonquian Linguistic Atlas, a large collaborative project that is building a digital infrastructure for Algonquian dictionaries and other resources. Marie-Odile was awarded a (2017) Governor's General Innovation Award.
Danielle Printup
Dani Printup (she/her) is a Hodinohso:ni (Onondaga) / Anishinaabe (Algonquin) arts worker and curator from Kitigan Zibi Anishnabeg, QC, with maternal roots in Ohsweken, ON. She has a Bachelor of Honors in Art History from the University of Guelph (2012). She has interned at the National Gallery of Canada and completed the RBC Indigenous Training Program in Museum Practices at the Canadian Museum of History. She has worked at Galerie SAW Gallery, the Indigenous Art Centre and the City of Ottawa's Public Art Program. She currently works as the Indigenous Cultural Engagement Coordinator at Carleton University Art Gallery.