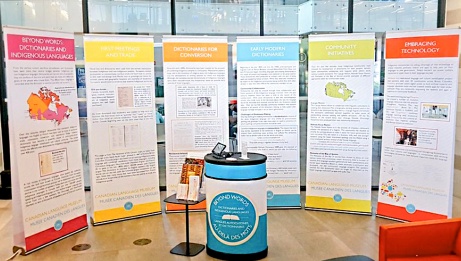 Indigenous arts
Exhibitions & installations
In-person event

Bilingual
National Indigenous Languages Day is on March 31. In celebration of this day, come and enjoy this free pop-up exhibit on the Canal Lobby Stage from March 28-April 2!
Beyond Words: Dictionaries and Indigenous Languages highlights the complex relationship between Indigenous languages and dictionaries over several centuries, from word lists and dictionaries developed for exploration, colonization, conversion and assimilation purposes, to online language materials being developed by Indigenous communities to transmit the elders' language knowledge to today's youth. This exhibit is created by the Canadian Languages Museum.
About the Canadian Language Museum
The Canadian Language Museum was established in 2011 to promote an appreciation of all of the languages used in Canada and of their role in the development of this nation. The Museum is located on Glendon College campus of York University in Toronto. Our exhibits have been displayed from coast to coast to coast!
https://www.languagemuseum.ca/
Want to learn more about Indigenous languages and dictionaries? Join us on Friday March 31 at 5:30pm in the Peter Herrndorf Place for panel discussion.