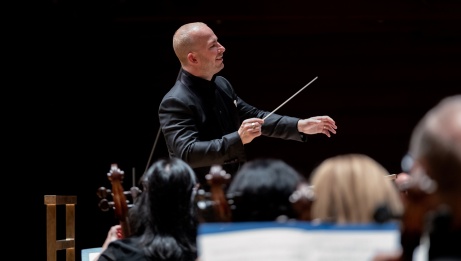 Music
Classical music
Masterworks
Florence B. Price

Symphony No. 4

Sergei Rachmaninoff

Symphony No. 2
In-person event

Bilingual
For one night only, the National Arts Centre is pleased to welcome acclaimed conductor Yannick Nézet-Séguin and The Philadelphia Orchestra as they celebrate the found musical treasures of African American composer Florence Price and the enduring friendship the Orchestra had with Russian composer Sergei Rachmaninoff.
In 1933, the Chicago Symphony Orchestra premiered a new piece from an unknown composer who had won first prize in a composition contest. The even bigger news was that the winning composer was a she, and that she was Black. With that, composer Florence Price became the first African American woman to have her work performed by a major symphony orchestra. Tonight, The Philadelphia Orchestra performs another of Price's works, her Symphony No. 4, written in 1945 but presumed lost until 2009, when, in a serendipitous twist of fate nearly 65 years later, an Illinois couple who were renovating a dilapidated old house discovered scraps of musical scores written by Price, the house's former owner. Listen for the haunting melody from the spiritual "Wade in the Water" woven throughout and for passages that are reminiscent of Dvořák's Symphony No. 9, From the New World.
"Philadelphia has the finest orchestra I have ever heard at any time or any place in my whole life. I don't know that I would be exaggerating if I said that it is the finest orchestra the world has ever heard." So said Russian-born composer Sergei Rachmaninoff about The Philadelphia Orchestra. Rachmaninoff had a close and lasting relationship with the Orchestra during his exile from Russia in the last 25 years of his life, and The Philadelphia Orchestra recorded his Symphony No. 2 three times under the direction of iconic conductor Eugene Ormandy.