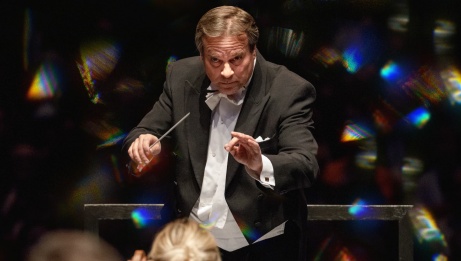 Music
Classical music
Masterworks
Violin
"Dmitri Shostakovich composed his Symphony No. 5 in an atmosphere of heart-stopping terror" cambridgelive.org.uk
WOLFGANG AMADEUS MOZART

Symphony No. 40

VAUGHAN WILLIAMS The Lark Ascending (for violin and orchestra)
Dmitri Shostakovich

Symphony No. 5
The lark is a small ground-nesting bird with an extravagant song that English composer Ralph Vaughan Williams captured in his The Lark Ascending, just as World War I began. NACO's own Associate Concertmaster, violinist Jessica Linnebach, tenderly conveys the lark's almost impossibly beautiful call in this masterwork.
Dmitri Shostakovich composed his Symphony No. 5 "in an atmosphere of heart-stopping terror" (cambridgelive.org.uk), a time when the mercurial moods of Josef Stalin changed like the wind and an artist's work could be celebrated one day and be cause for exile or worse the next. Under the baton of Principal Guest Conductor John Storgårds, the NAC Orchestra captures the emotion of this Stalin-approved work that might have saved Shostakovich's life but never sacrificed his artistry.
The year 1788 was a dark one for Wolfgang Amadeus Mozart—his decline in fortunes had begun, the bills were piling up, and his infant daughter had just died. It's probably not surprising, then, that he began to embrace the artistic movement called Sturm und Drang (storm and stress) in his beautiful Symphony No. 40, one of only two he wrote in a minor key.