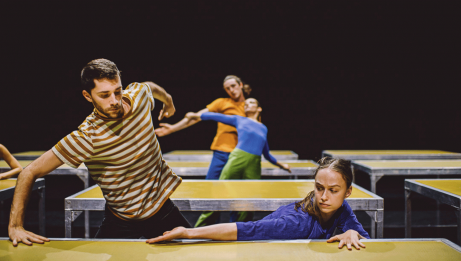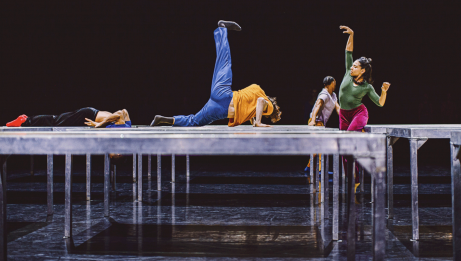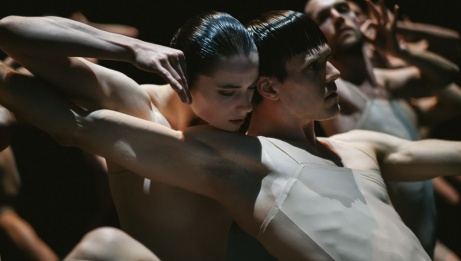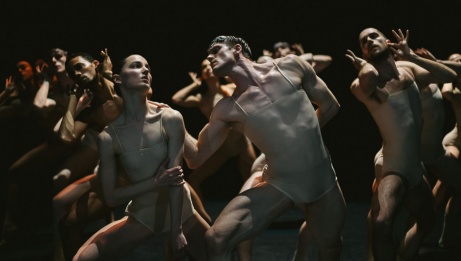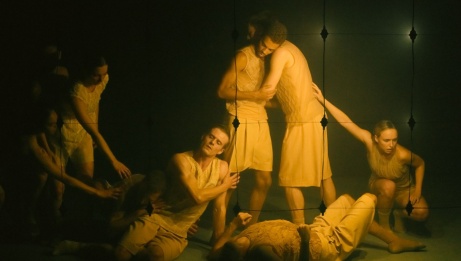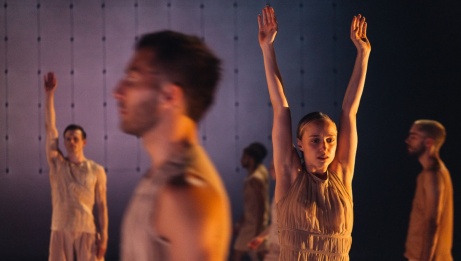 "Defying all danger [in One Flat Thing, reproduced], [the dancers] lengthen the body lines of high-raised legs and horizontally sliding bodies with perilous jumps on and under the tables. The complex structure channels their hunted motor skills into a fountain of physical energy." de Volkskrant
PROGRAM:
One Flat Thing, reproduced by William Forsythe
The Point Being by Imre van Opstal & Marne van Opstal 
Jakie by Sharon Eyal &  Gai Behar
One Flat Thing, reproduced by William Forsythe 
Forsythe's One Flat Thing, reproduced was inspired by British explorer Robert Falcon Scott's expeditions to the South Pole in the early 1900s. But if you didn't know that, you'd never guess it: Forsythe has completely removed the narrative element. 
Bright, crisp lighting, like a sunny day on the Antarctic ice. A set composed of 20 metal tables on a bare stage. Dancers moving at breakneck speed over, under, and through the narrow spaces between the tables, which are as hard and unforgiving as ice floes. The tables are never moved from their assigned places, instead becoming an obstacle course, a support system, a series of resting places and much more for the dancers. The choreography draws on the chain reaction of precise signals conveyed by the dancers, resulting in a complex and impressive visual experience. 
The Point Being by Imre & Marne van Opstal 
Choreographers, performers, and movement directors—and siblings!—Imre and Marne van Opstal are a creative duo making their mark on the international dance scene. Each enjoyed a prominent career as a performer before they branched out to pursue their own creative projects focusing on an intersection with numerous artistic fields. With an impressive list of partnerships in the music, dance, fashion, and design worlds, Imre and Marne's work knows no bounds. They are acclaimed for their highly theatrical, surrealistic, and multidisciplinary stage creations. Their new piece, set to premiere in September 2023, is a collaboration with the prestigious Studio DRIFT in Amsterdam, renowned for its ability to transform spaces and unite an audience in experiences that inspire a reconnection to nature.   
Jakie by Sharon Eyal & Gai Behar
Jakie deconstructs any preconceptions you may have of what a dance performance looks like. Bathed in diffuse light, clad in form-fitting white costumes, the 16 dancers on stage look like trembling creatures balancing on their toes. A few dancers detach themselves from this curious, homogeneous group, and frenetic, fast-paced solos ensue, fuelled by the transcendent rhythms of DJ Ori Lichtik. As if drawn by a magnetic force, the dancers swiftly return to the ensemble as if seeking refuge at its centre. A contagious trance.
NAC Dance audiences familiar with Sharon Eyal's work will be thrilled to experience this new commission for NDT. Known for interweaving different elements of dance, Eyal has developed a distinctive style that delivers one of the dance world's most innovative contemporary language forms.