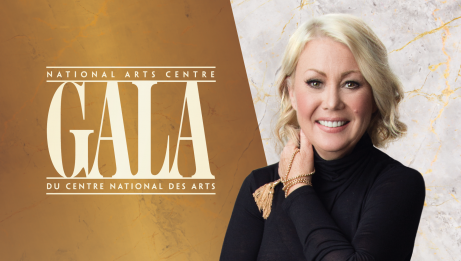 Special Events
Music
Singer/Songwriter
In-person event

Bilingual

≈ 2 hours · With intermission
The NAC's Fall Gala. You want to be here!

Your evening includes:
5:30 p.m. Cocktail reception
6:30 p.m. Gala concert
8:30 p.m. Dance the night away, free lobby party included, cash bar
** NEW: Enhance your event experience with access to our VIP After-Party Reception with culinary fare and signature drink in the Salon or on the Mezzanine while a deejay mixes beats. (extra ticket required, $79.10 per person, available for purchase until November 1)
A wonderful evening featuring Jann Arden with the NAC Orchestra on stage!
An acclaimed singer, songwriter, actress, broadcaster, podcast host, and author, Jann Arden has taken the world by storm for almost three decades. Born and raised in Alberta, Arden catapulted onto the Canadian music scene in 1993 with her debut album, Time For Mercy, featuring the hit single, "I Would Die For You". A year later, with the follow-up album Living Under June, she would have her career breakout hit "Insensitive," which solidified her position in the music scene across Canada and beyond. To date, Arden has released 17 albums and achieved 19 top 10 singles.
With accolades that include 19 top 10 singles, eight JUNO Awards and 10 SOCAN Awards, Arden is a beloved Canadian musical artist and personality. In 2020, she was announced as an inductee into the Canadian Music Hall of Fame, joining the ranks of Canadian music icons including Alanis Morissette, Bryan Adams, Barenaked Ladies, Bachman Turner Overdrive, Joni Mitchell, k.d. lang, Leonard Cohen, Neil Young, RUSH, The Guess Who, The Tragically Hip, Sarah McLachlan, Shania Twain and many more.
A versatile artist, Arden co-created and stars as a fictionalized version of herself in the CTV Original Comedy Series JANN, available on CTV in Canada. The first two seasons are available via HULU in the U.S. Premiering in 2019, and the series was the most-watched new Canadian comedy series of the 2018-19 broadcast season. Season three wraps up with the last episode on November 15. The show features Sarah McLachlan, k.d. lang, Elisha Cuthbert, Keshia Chanté and more. Arden has been involved in Workin' Moms, Wynonna Earp, Private Eyes and The Detour, she has previously appeared in sitcoms Ellen and Corner Gas.
Arden has made guest appearances on CBC's Rick Mercer Report, as well as regularly appearing as a guest host on The Social. Arden also hosts an iHeartRadio original podcast called The Jann Arden Podcast, discussing everyday life challenges, triumphs, and tribulations. The Jann Arden Podcast is a fun-filled, relatable experience exploring what makes all humans authentically themselves with various special guests, including musicians, actors, politicians, writers and athletes.
In addition to being a singer/songwriter, Arden is, of course, an author of note, peppering her words of wisdom with her signature humour. Arden has written five books, the most recent being her new memoir IF I KNEW THEN: Finding Wisdom in Failure and Power in Aging, released in October 2020 via Random House Canada. IF I KNEW THEN follows Arden's 2017 Canadian bestseller, FEEDING MY MOTHER: Comfort and Laughter in the Kitchen as My Mom Lives with Memory Loss, which spent a combined 44 weeks on The Globe and Mail bestseller lists.
First NAC Gala since 2019 will celebrate women leading in the arts
"This year's NAC Gala theme of celebrating women leaders in the arts is close to my heart," said Jayne Watson, CEO of the NAC Foundation, which organizes the signature fundraising event. "There are so many extraordinary women in the performing arts who are making things happen right across Canada. They are artists, designers, writers, producers, technicians, administrators, volunteers, fundraisers — the list is endless. They do brilliant work for the arts sector, they deserve recognition, and we are absolutely delighted to be celebrating them at the NAC Gala."
One of those extraordinary women leaders is Adrian Burns, Chair of the NAC Board of Trustees, who in December 2022 will step down after more than two decades of volunteer leadership. Proceeds raised from the Gala will be directed to the new Adrian Burns Fund for Women Leaders in the Performing Arts, which will help create opportunities across the country for professional skills development in the performing arts for women.
In addition, the NAC is delighted that Sophie Grégoire Trudeau will serve as Honorary Chair of the 2022 NAC Gala.
*****************************************
Proceeds raised from this year's NAC Gala fundraiser will be directed to The Adrian Burns Fund for Women Leaders in the Performing Arts, a new fund that will help create opportunities across the country for professional skills development in the performing arts for women

ABOUT THE NATIONAL ARTS CENTRE FOUNDATION

The National Arts Centre Foundation raises funds to support the National Arts Centre's work in performance, creation and learning across Canada. Since its founding in 2000, the National Arts Centre Foundation has raised over $160 million to enrich the lives of Canadians through the performing arts and champion our country's artists, students and educators.