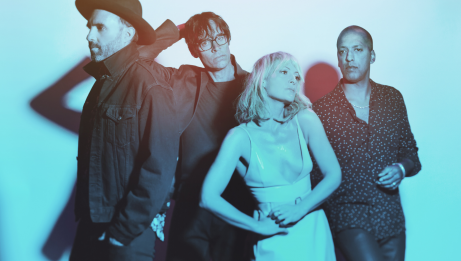 The vinyl artwork for Metric's new album, Formentera, includes a motto that sums up the past
few years: This Is What Happened. It's an understatement that manages to say everything.
Even real places become imaginary when they are so far out of reach. Named for an idyllic
island near Ibiza off the coast of Spain, Formentera is a place that, for Metric, only existed on a
page in a "dream destinations" travel book that lay open on a desk in the new recording studio
that guitarist Jimmy Shaw built in 2020, in a rural hamlet north of Toronto. This is the setting
where the band's eighth album took shape.

Metric's sound is both genre-defying and genre-defining. Emily Haines, Jimmy Shaw, bassist
Joshua Winstead and drummer Joules Scott Key started playing together in NYC in 2001. They are just getting started.

The band will be hitting the road on a North American headline tour, The Doomscroller Tour, and have partnered with PLUS1 so that $1 per ticket goes to supporting War Child and their work to empower children and families in communities affected by war throughout the world.
"One of the high points of 2022 for us has been working on putting everything together for The
Doomscroller Tour," says frontwomen Emily Haines. "We're crafting a set list based on fan
favorites including deep cuts from Live it Out & Old World and it's been wild to see how the new songs from Formentera flow with the classics from Fantasies & Synthetica. I'm really happy with the venues we chose, they suit the lighting and sonics and the whole mood of the show we're crafting. I want Metric fans to have the best concert experience possible and feel like they got to escape into another reality with us for the evening. Can't wait to get this show on the road!"