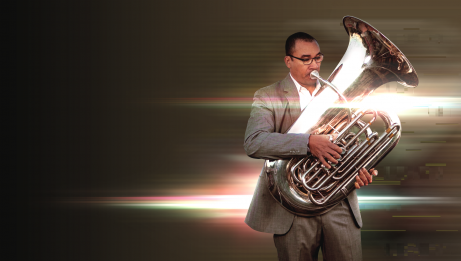 NACO Spring Offer: Bring a friend to a NACO concert in the 2021-2022 season and receive 50% off both of your tickets – that's two seats for the price of one! Offer valid for a limited time and only for select NACO performances. Discount available on regular priced tickets only and cannot be combined with other offers.
Conductor: Alexander Shelley
Guest artist: Chris Lee, tuba
Lovers of both classical music and jazz will find much to celebrate when the NAC Orchestra and NACO's principal tubist Chris Lee perform the Canadian premiere of Wynton Marsalis's Tuba Concerto, a marvellous hybrid of musical genres, and an NAC co-commission. Though he might be better known for his work in jazz, Wynton is no stranger to classical music, having composed a violin concerto, numerous symphonies, and a Pulitzer Prize-winning oratorio. In fact, at the age of 22, Wynton became the only person ever to win a GRAMMY in both classical and jazz music in the same year.
Gustav Mahler worked his Symphony No. 1 through several iterations over the years,using all the musical means at his disposal to create what he called "a symphonic poem in two sections."The result is a beautiful world rich with inspiration,and a symphony that is now a staple of the classical music canon.
As part of NACO's inaugural Mentorship Program, the Orchestra is bringing in 50 of the world's rising stars—outstanding players who embody the next generation of orchestral artists—to perform Mahler's epic work. With over 100 musicians on stage, these incredible performers will bowl you over with sheer energy!