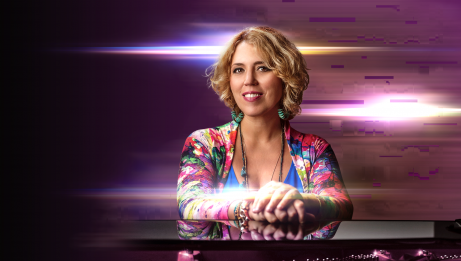 ANDREA TARRODI

Wildwood*

Dmitri Shostakovich

Piano Concerto No. 1 in C minor, Op. 35
In-person event

≈ 2 hours · With intermission
Ukrainian-Finnish conductor Dalia Stasevska returns to Southam Hall!
She will lead the NAC Orchestra in the Canadian premiere of Swedish composer Andrea Tarrodi's Wildwood, which she calls "a work that grabs you from the very beginning and takes you on a magical, musical trip. Andrea is a master in creating a rich colour palette and long musical lines. For me, Wildwood has a deep spiritual understanding of and curiosity for nature."
NACO Creative Partner Gabriela Montero also returns to Southam Hall for an unforgettable evening of virtuosic music-making that includes Dmitri Shostakovich's Piano Concerto No. 1 in C minor. Capturing a wide world of moods, the piece attests to the young composer's confidence and optimism when he wrote it at the age of 27. Shades of old Westerns, playful sips of jazz, spectacular trumpet solos, and mesmerizing passages of beauty and delicacy—each movement has its own shape and colour, making Shostakovich's piano concerto one of the most entertaining and enjoyable ever composed.
Antonín Dvořák's euphoric and restless Symphony No. 8 in G major celebrates the "sheer joy of being alive in a world of natural wonders" (laphil.com). As with his beloved New World Symphony, which was written in a small town in Iowa, Dvořák was inspired to write his Symphony No. 8 in the quiet seclusion of his country home in Vysoká, Czechoslovakia. This is a warm and upbeat work that will caress you like a soft breeze.
These performances are dedicated to the people of Ukraine. In solidarity, the NAC Orchestra will open the concerts with the Ukrainian National Anthem.