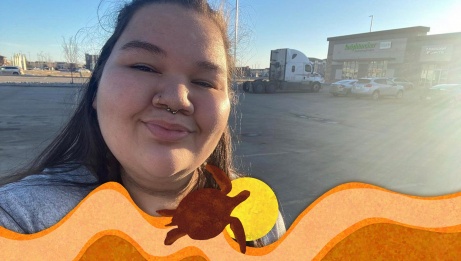 English

≈ 45 minutes · No intermission
Ka-médog Wejababidom (Dani) Lanouette brings her "Guide on Interacting with Indigenous people and Topics Online" to a live workshop for students and teachers to gain a better understanding of Indigenous issues and how to be a better ally to Indigenous folks. Open to schools and organizations.
About the facilitator:
Dani Lanouette (she/they) is a queer Anishinaabekwe originally from Neyaashiinigmiing Nishinaabekiing and Algonquins of Barriere Lake and is currently based on Treaty 4 lands in Regina, Saskatchewan. Dani is currently working towards a Bachelor of Arts with a double major in Indigenous Studies and History at the University of Ottawa, holds an Ontario College Certificate and Diploma in General Arts and Sciences - Aboriginal Studies from Algonquin College and works at the Communications and Community Care Manager at the 4Rs Youth Movement. Dani's dream is to work towards leaving a legacy her grandparents who survived the Spanish Indian Residential School would be proud of, which includes working towards Indigenous sovereignty and reclamation of traditional ways of living.
Platform: virtual platform of your choice (Zoom, Google Meet, etc)
Length: 45 minutes
Grades: 7-12
Language: Offered in English only
Class Size: With purchase of ticket, this workshop can be streamed to either a single classroom, or up to several classes at once
Instructions:
1. Select which time slot you would like to purchase
2. Once purchase is confirmed, an NAC staff member will be in touch with you via email to confirm:
the exact time you want the workshop to begin (ex, if you choose the 8:45am – 10:00am timeslot and your class period begins at 9:00am, you will indicate a start time of 9:00am)
your platform of choice (Zoom, Google Meet, MS Teams)
send out the teacher's guides