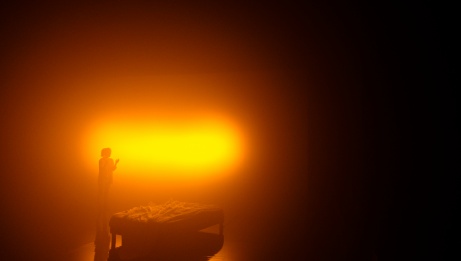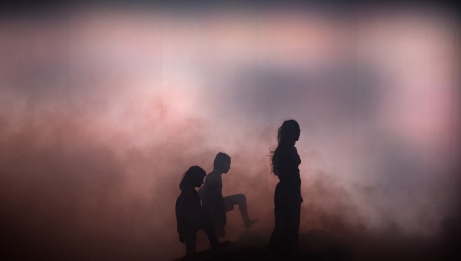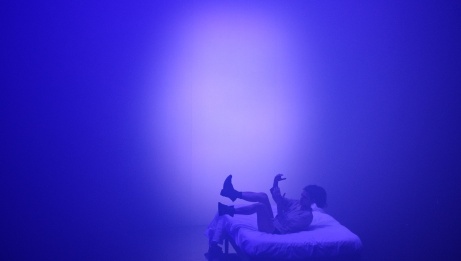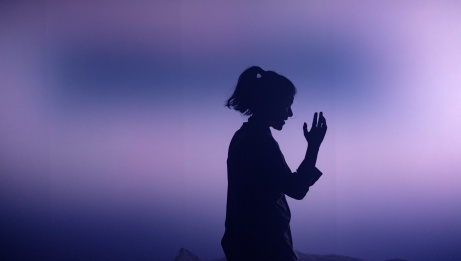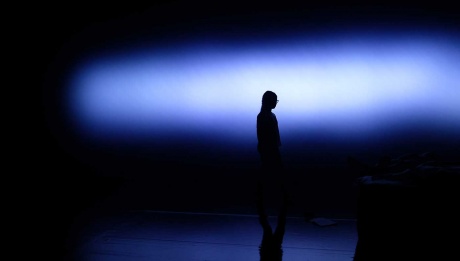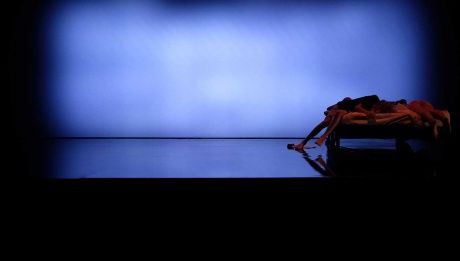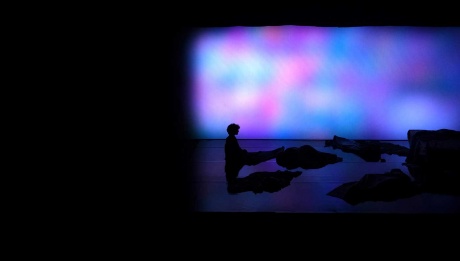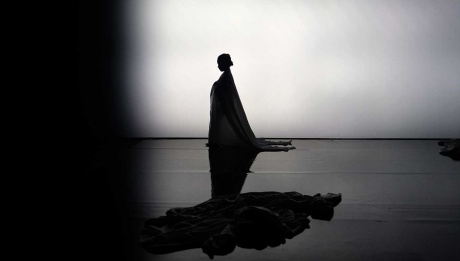 "A landscape play in a white room"
In-person event

Français

≈ 1 hour · No intermission
Flashing lights
Smoke machine
Haze
Loud noises
In a hotel room by the sea, where stories and bodies intertwine, White Out navigates the fine line between reality and dream. Through an evocative blend of lighting, sounds and language, the company L'eau du bain creates an enveloping universe that probes the landscape of intimacy.
The expression "white out" refers to the loss of reference points that occurs under certain atmospheric and climatic conditions—not unlike the way you feel in the midst of heartbreak. In an installation inspired by the room overlooking the dark sea that is the setting for Marguerite Duras' novel La maladie de la mort, a woman has taken refuge. The place has recorded all the dramas that have taken place there, and plays them back in random order. Through a storm that galvanizes the senses and mutates as the dialogue unfolds, we can make out a bed, sheets, silhouettes of children. A space between two worlds where the whiteness outside also evokes the emptiness inside.
The mixed-media works of L'eau du bain combine light, sound, text and performance to create universes that challenge the audience's perceptions. Founded by Anne-Marie Ouellet, Thomas Sinou and Nancy Bussières, the company continues the exploration begun with Impatience, created with teenagers, and Nous voilà rendus, created with seniors. A version of White Out adapted for ages 6 to 11 is also offered in French Theatre's season of plays for young audiences, under the title La chambre des enfants.
Free workshop for children - Journey into the Land of Dreams
Location : The Salon (NAC)
Date : Saturday, April 9th 2022
Time : 4:00pm
Duration : About 1 hour
Age : 6 and up
Language : This workshop is exclusively offered in French.
Accompanied by our experts in dreams and slumber, artists Judith Poitras and Marie-Ève Fontaine, we invite you to come sculpt your dreams and put your imagination into action! A whole host of creative activities await you (in your PYJAMAS, if you'd like). Meanwhile, adults can enjoy the performance of White Out in the hall next door.