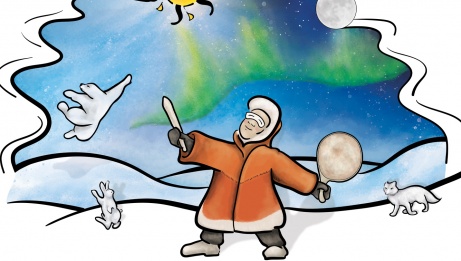 Family programming
Indigenous arts
Music
Classical music
Vocal
Storytelling
Festival events
≈ 1 hour · No intermission
Suggested for 5-12 years old
Join the National Arts Centre Orchestra, JUNO Award-winning Inuk recording artist Susan Aglukark, and multi-award winning singer-songwriters Twin Flames, and Inuit throat singing duo Silla for a unique musical journey to the North! Through storytelling, throat singing, and dance, singer-songwriter and activist Aglukark will guide you through your discovery of this spectacular region's dynamic culture. Presented in collaboration with NAC Presents and the NAC's new Indigenous Theatre.
This concert is part of the exciting all-Indigenous programming taking over the NAC's performance and public spaces September 11-29, 2019. This premiere Indigenous Arts Festival, Mòshkamo, celebrates the inaugural season of NAC's Indigenous Theatre and the resurgence of Indigenous Arts. Learn more about Mòshkamo, presented by Facebook Canada, at MoshkamoFestival.ca
FAMILY ADVENTURES WITH THE NAC ORCHESTRA: Lively bilingual one-hour performances, it's always hands-on and fun! Enjoy an afternoon exploring the wonders of music with a variety of entertaining performances and pre-show activities to choose from. More than just a concert it's an interactive musical experience featuring the NAC Orchestra and amazing guest artists. Guaranteed to thrill music lovers!
---
TUNETOWN Pre-concert Activities
Arrive 45 minutes early to participate in hands on TUNETOWN pre-concert activities in the NAC Main lobbies. More than a concert, it's an interactive musical experience! Guaranteed to thrill music lovers of all ages! The Mòshkamo edition of pre-concert activities will include:
(Please note that the following activities are subject to change)
Join Inuit Elder David Serkoak and learn traditional Inuit drumming
Join students from Nunavut Sivuniksavut for throat singing and Inuit string games. You can also learn to write your name in syllabic (the Inuit alphabet) and discover traditional Inuit clothing and tools!
Discover the interactive virtual reality project Biidaaban: First Light that illuminates how Indigenous languages can help us understand our place in a reconciled version of Canada's largest urban environment. Presented by By Lisa Jackson, Mathew Borrett, Jam3 and the National Film Board of Canada
Learn more about the Arctic and Northern Indigenous cultures at the Ottawa Public Library 's reading corner
Watch "What's My Superpower?", an Inuit children short animation film presented by the Ottawa International Animation Festival
Try your luck at a giant Connect Four game presented by ELMNT FM: The Spirit of Ottawa
Play some of the string instruments that will be featured on stage with students from the Ottawa Suzuki Strings
Join the Lotus Centre for Special Music Education for an interactive sensory-friendly activity (Saturday September 21 only)
Participate in interactive musical activities with Music for Young Children
Build an Inukshuk and create an Ajaqaq game with students from Nunavut Sivuniksavut
Discover Breaking Ground, an exhibition featuring the work of groundbreaking Indigenous women artists—Freda Diesing, Helen Kalvak, Janet Kigusiuq and Rita Letendre—presented by Carleton University Art Gallery in conjunction with Mòshkamo: Indigenous Arts Rising
TUNETOWN preconcert activities are made possible with support from the Friends of NAC Orchestra.
---
NACOtron presented in collaboration with Rogers TV
Rogers TV is very pleased to present NACOtron, in partnership with the National Arts Centre Orchestra. We hope you enjoy the giant images on the NACOtron screen as they capture and magnify the magic of these fabulous concerts.
---
National Youth and Education Trust
Family Programming is made possible in part by the NAC's National Youth and Education Trust. The Trust is supported by partners and patrons of the annual NAC Gala and the donors of the NAC Foundation's Corporate Circle and Donors' Circle.