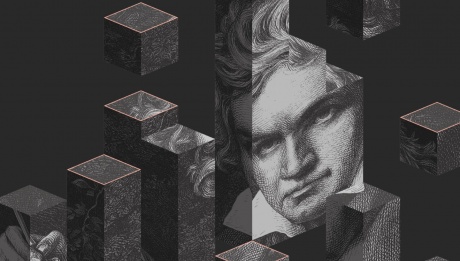 Music
Classical music
Masterworks
≈ 1 hour and 30 minutes · No intermission
The NAC Orchestra brings to life Beethoven's electrifying and tempestuous Beethoven's Symphony No. 5. Groundbreaking when it debuted in 1808, the world's most famous symphony gives virtually every instrument in the orchestra a solo, each individual voice on a collective journey culminating in powerful triumph.
One would be hard-pressed to find anyone who does not immediately recognize the signature opening "ta-ta-ta-tum". It remains a leitmotif, throughout popular culture, film and television, somehow capturing the essence of human emotion -- it transcends time and cultural evolution. Beethoven's Symphony No. 5. is arresting in its measured softness and exhilarating in its strength. It captivates the listener from the very first note and is, without reservation, a masterpiece.
"Radiant beams shoot through this region's deep night, and we become aware of gigantic shadows which, rocking back and forth, close in on us and destroy everything within us except the pain of endless longing—a longing in which every pleasure that rose up in jubilant tones sinks and succumbs, and only through this pain, which, while consuming but not destroying love, hope, and joy, tries to burst our breasts with full-voiced harmonies of all the passions, we live on and are captivated beholders of the spirits."-Famed eighteenth-century music critic E.T.E. Hoffmann on Beethoven's Symphony No. 5.
Music. Food. Wine. Friends.
A Perfect Way to Enjoy it All.
Unwind at the end of your week with our wildly popular Casual Fridays!
5:30 PM Pre-concert 5 à 7 with music in the Southam Hall Lobby featuring the Clayton Connell Trio. This event is OPEN TO ALL whether or not you attend the concert. Enjoy cocktails and tapas, available for purchase. All tapas are prepared by the NAC culinary team drawing inspiration from individual Casual Fridays concerts for an original and authentic flair. You can purchase tapas tickets onsite the night of the concert at a price of $8 per tapa. Tapas Tickets can also be purchased in advance through your my NAC Account or at the box office (4 tapas tickets for $30). Tickets are valid for any Casual Fridays performance during the 2018/19 season.
7 PM 90-minute NAC Orchestra concert without intermission. Each invited, guest concert host connects with the artists on stage to discover more about them and the music. Side screens give the audience a chance to get up close and personal with the evenings performers.
8:30 PM Post-concert party with DJ Trevor Walker in the Main Foyer, OPEN TO ALL whether or not you attended the concert. Mix and mingle with fellow music lovers and NAC Orchestra musicians!