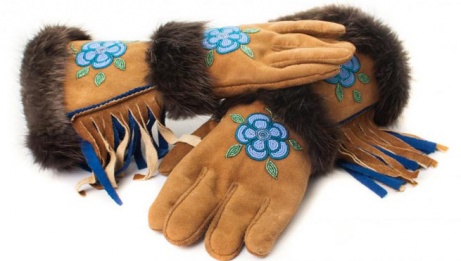 Workshop length: 4 hours | Ages: 13+
Max. 10 participants | $75 fee includes materials

Lena Moosenose has been practising the craft of beadwork since the age of 10, when she saw her mother sewing and asked where to get her own beads. Lena's mother put her to work cutting the beads from the "uppers" of old moccasins, and cleaning those beads to reuse – because at that time, there were no stores nearby to buy new beads or supplies. Today, Lena fondly remembers sitting by the light of the woodstove practising her sewing.
Lena makes a variety of items out of hides and finishes them with beadwork or embroidery. She does her own tanning and creates the patterns for jackets, gloves, vests, slippers, and more. For this workshop, she will share her skill and expertise to help participants create an individual and unique piece with traditional beading techniques.
At the end of the workshop participants will have their own a credit/debit/business-card holder or change purse to take home.