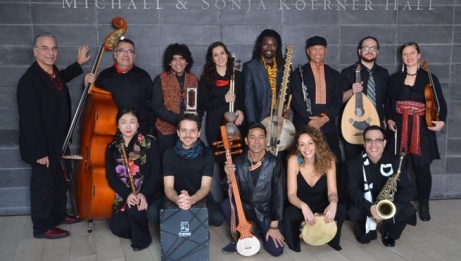 In a major initiative from the Royal Conservatory of Music, the New Canadian Global Music Orchestra explores and celebrates the cultural diversity and pluralism of Canada, connecting us and communicating in ways that words, politicians, and spiritual leaders cannot, and helping us to find a common language.
Hailing from all corners of the globe – from Peru to Burkina Faso to Cuba to Ukraine – and now living in the Greater Toronto Area, the orchestra's 12 musicians play instruments as diverse as they are, from the tar of Iran to the bouzouki of Greece to the hulusi of China. Over the course of several months, the ensemble have shared each other's cultures and music traditions as they rehearse, compose, and give workshops and community concerts.
The project was conceived by Mervon Mehta, the Conservatory's Executive Director of Performing Arts, and is led by Artistic Director David Buchbinder, Canada's JUNO Award-winning trumpeter, composer, bandleader, and cultural inventor.
Produced by the Royal Conservatory of Music. Presented in collaboration with Ottawa Chamberfest.