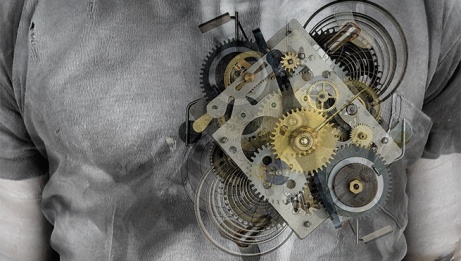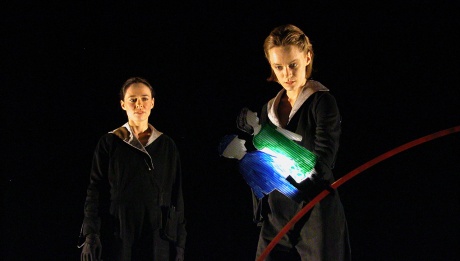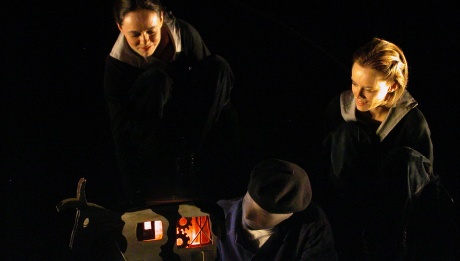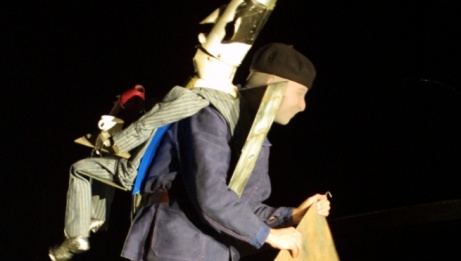 "Poétique. Ciselé. Intelligent. Avec Petit Pierre, les Québécois de la compagnie du Carrousel s'y entendent à merveille pour tenir en haleine, une heure durant, une salle remplie de gamins enlevés aux jeux turbulents des centres de loisirs." Isabelle Mastin, La Voix du Nord
Ages 8 and up
Petit Pierre tells the amazing true story of Pierre Avezard, a wee slip of a man who invented a gigantic mechanical contraption. Against the backdrop of events that marked the life of this unlikely genius and shaped the 20th century, two storytellers reach out from the present to spin the vast merry-go-round of memory.
---
Sometimes the stories people tell are true, even in plays. Pierre Avezard, nicknamed "Petit Pierre," was born in the middle of the fields at the beginning of the last century. A slip of a man with a crooked smile, he was half blind, almost deaf, and mute—but the cows didn't care. One day, for Fleurette, his favourite cow, he designed and built an automatic beet-distributing machine. That was the first of his many inventions: a hen on a wall, a cowherd, multicoloured flowers, a plane about to take off. Cobbling together various bits and pieces with fragments of stories picked up along the way, Pierre Avezard constructed a gigantic mechanical merry-go-round, a poetic machine of unique beauty: his masterpiece.
A landmark production from children's theatre company Le Carrousel, Petit Pierre tells the true story of Pierre Avezard against a backdrop of 20th-century milestones, from the outbreak of WWI to the fall of the Berlin Wall. On stage are two storytellers, one actor, and a circular structure where, one by one, the little man's most famous inventions appear. Once again, renowned playwright Suzanne Lebeau has teamed up with master director Gervais Gaudreault to create a touching tale that reaches out from the present to spin the vast merry-go-round of memory.