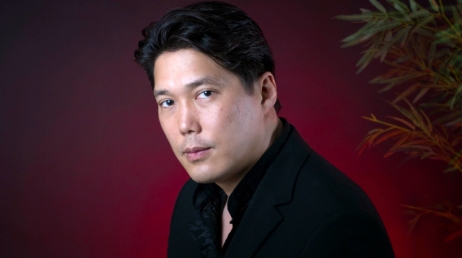 ≈ 2 hours and 30 minutes · With intermission
Featuring:
Peter Liu – vocals
Scott Poll – clarinet
Peter Hum – piano
Normand Glaude – bass
Tim Shia – drums
Popular jazz vocalist Peter Liu presents his debut album, "Bamboo Groove," as he leads his fine ensemble for this CD release concert. With unique and exciting arrangements by Peter Hum, the group performs intriguing takes on jazz standards and jazz interpretations of Asian pop and folk songs. Together, they integrate Eastern and Western sounds, as well as traditional and modern jazz styles, creating a transcendent, moving and thoroughly enjoyable musical experience.
Known for his velvety smooth voice, creative phrasing and engaging presence, Peter Liu performs regularly throughout the Ottawa area, with highlight performances at the Ottawa International Jazz Festival, the Canadian Tulip Festival, the NAC Fourth Stage and Rideau Hall. He is also a tenor core member of the acclaimed Ewashko Singers. Recognized in Ottawa and beyond for his dazzling sound as a jazz clarinet virtuoso in the tradition of Benny Goodman and Artie Shaw, Scott Poll has an impressive performance history. Jazz pianist Peter Hum has consistently led a number of outstanding combos since the 1990s as a mainstay of the Ottawa jazz community, always playing with beautiful and inventive intensity. Known for his warm sound and energizing lines, Normand Glaude is one of the busiest local bass players, with many performing and recording projects around Ottawa. In-demand Toronto drummer and bandleader Tim Shia has played and recorded with many of Canada's most acclaimed jazz musicians, and he provides the group with his exceptionally dynamic and sensitive playing.