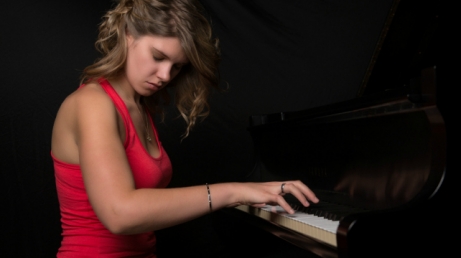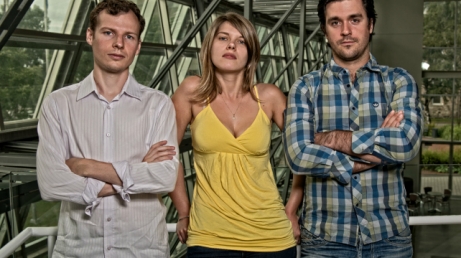 Born and raised on Montreal's South Shore and now living in Rimouski, pianist Emie Rioux Roussel is known for her solid yet nuanced compositions. She began classical piano lessons at age five, then studied jazz with her father, jazz pianist Martin Roussel, and with Lorraine Desmarais, and obtained a diploma (first class honours) in jazz piano performance. In 2011 she completed her BA in jazz piano performance at the University of Montreal, where she studied under Luc Beaugrand.
Emie R. Roussel burst onto Quebec's live music scene in 2007, and has shared the stage with such leading talents as Terry Clarke, Mike Gauthier, Éric Lagacé, Alex Bellegarde, Dave Watts, Michel Berthiaume and Norman Lachapelle.
In 2010 she founded the Emie R. Roussel Trio and released two original albums, Temps inégal (2010) and Transit (2013). With Nicolas Bédard on double bass and Dominic Cloutier on drums, the Trio is a prime example of Quebec's contemporary jazz sound: resolutely young, rhythm-based, and infused with straightforward rock and pop harmonies. The Emie R. Roussel Trio received a special mention from the jury of the 2013 TD Grand Jazz Award at the Montreal International Jazz Festival, and won the People's Choice award at the 28th annual Festi Jazz International de Rimouski.
In 2011 Emie joined the faculty of the Jazz-Pop program at the Cégep de Rimouski as a teacher and accompanist, and in 2014 she was named one of Radio-Canada's "Discoveries of the Year."