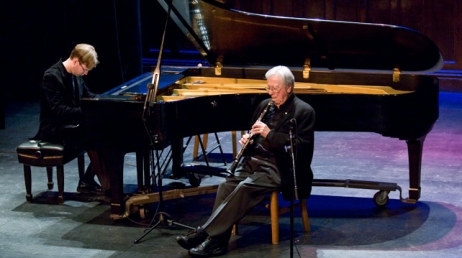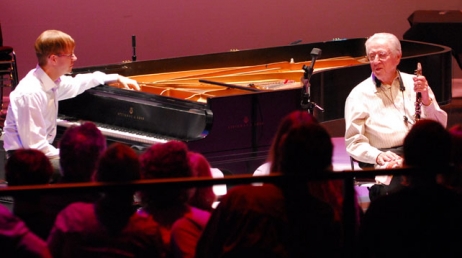 In June 2013 the dean of Canadian jazz, Phil Nimmons, turned 90. To celebrate his life, his musical career spanning over seven decades and his significant influence on the jazz community of Canada NAC Presents offers a concert featuring a collaboration between the venerable clarinetist with jazz innovator, and former Nimmons student, pianist David Braid.

Rarely in the history of jazz has a musician had the inspiring career longevity of Phil Nimmons. Not only does Nimmons continue to perform into his 90s but he is on a continuous path of evolving creativity, life-long learning and musical exploration, embracing new forms, sounds and techniques.

If any two people represent the past, present and future of Canadian jazz, it has to be the inspired duo of clarinetist Phil Nimmons and pianist David Braid. The performance will feature improvisations and conversations between these two jazz geniuses and will incorporate the visual art photography by Nathan Wirth. View video featuring the music and photography here: http://www.youtube.com/watch?v=I2KqewfIVlA


Clarinetist, composer and bandleader Phil Nimmons is one of the most influential figures in Canadian jazz. In the 1950s and '60s he came to prominence as a performer and bandleader with his group Nimmons 'n' Nine. He was awarded first-ever JUNO award given in the jazz category in 1976. He was a prominent teacher and academic having taught at the University of Toronto and co-founded, with Oscar Peterson, the annual international jazz workshop at the Banff Centre in 1973. He has received both the Order of Ontario and the Order of Canada.

David Braid, hailed in the Canadian press as "A jazz genius to call our own" (MacLean's Magazine), is a two-time JUNO award winning pianist and composer. Combining harmonic intricacies fundamental to European classical music and the spontaneity of American jazz, Braid's original music engages audiences with melodic lyricism and rhythmic pulses that do not conform neatly to any one musical genre. Braid is a recipient of SOCAN Composer of the Year, is a multi-National Jazz Award Winner and a recipient of the Canada Council for the Arts' "JazzID Award."
"two seriously-skilled players complement and confront each other as they illuminate terrific techniques and fierce imaginations..." Toronto Star