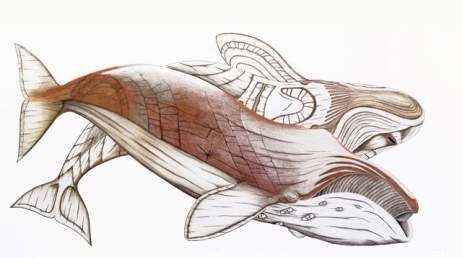 If the best contemporary art pushes boundaries, challenges expectations, and illuminates some aspect of the human condition, the recent wave of artwork from Canada's North is a resoundingly powerful statement. Inuit art has long been a fascinating window into a remote and culturally complex place; ideas of the North, whether real or invented, have captured our imagination for many years. Over time, the materials, style and subject matter have become distinctive and discernible.
If you think you know what today's Inuit art looks like, Inuit Ullumi might surprise you in its diversity and unpredictability. TD is pleased to share recent additions to its Corporate Collection illuminating the complexity and range of contemporary art from Canada's North.
Artists: Shuvinai Ashoona, Isaci Etidloie, John Noestheden, Tim Pitsiulak, Annie Pootoogook, Itee Pootoogook, Pitseolak Qimirpik, Ningeokuluk Teevee, Sam Toonoo
Curators: TD Bank Group
Inuit Ullumi is a co-operative project between the embassy of Canada in Washington, TD Bank Group and the NAC's Northern Scene.