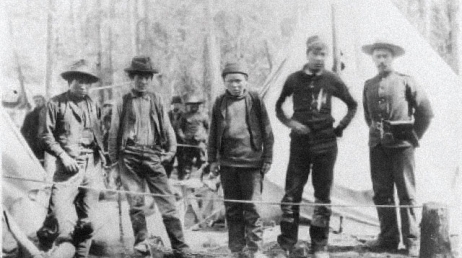 A Gwaandak Theatre production
Written by: Leonard Linklater
Directed by: Yvette Nolan
With: Rob Hunter, Chris McGregor, Phillip Nugent, and Corey Payette
Set Design: Linda Leon
Lighting Design and Technical Director: Graham Ockley
Sound Design: Dave Haddock
Costume Design: Melaina Sheldon
Dramaturgy: DD Kugler
Movement Coach: Andrameda Hunter
Stage Manager: Richard Cliff
A gripping drama that sheds light on a little-known part of our nation's history, Justice is inspired by the true story of the Nantuck brothers, the first men to be hanged in the fledgling Yukon territory.
During the Klondike Gold rush of 1898, Aboriginal and European cultures came together with sometimes tragic results. The accidental poisoning deaths of two members of the Tagish First Nation led to a cultural misunderstanding and clash of justice systems far from the reach of the papers of the day. Yukon playwright Leonard Linklater explores divergent views of justice in this fascinating play.
For Northern Scene events at locations outside of the NAC, Live Rush tickets can be purchased at the NAC Box Office and online as per the normal process and in addition at the venue in question up to show time.