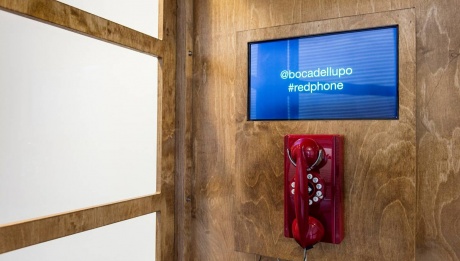 Exhibitions & installations
In-person event

≈ 3 hours · No intermission
Conceived by Sherry Yoon and designed by Jay Dodge, with technology by Carey Dodge, Red Phone is a conversation that you will not soon forget. Part theatre and part social intervention, Red Phone is an audience-to-audience performance that utilizes the intimacy of a phone call and the technology of a teleprompter. It takes place between two hand-crafted, fully enclosed phone booths outfitted with a vintage red phone and an integrated teleprompter.
Two at a time, audience members engage each other in a five-minute conversation in the booth. The act of having the conversation with an unseen partner provides an anonymity that adds to the intimacy of the performance, encouraging participants to be the actor in their own theatrical experience. Red Phone is a one-of-a-kind performance that has been described as the theatrical equivalent to singing in the shower.
Free of charge, anyone can walk up and into the booths with a friend or family member and spend 5 minutes engaging in some of the most urgent, touching, thought provoking conversations written by some of Canada's most exciting writers. With a Canadian catalogue of over two dozen scripts and tour stops spanning from Vancouver Island to Newfoundland, Red Phone is a truly national project.