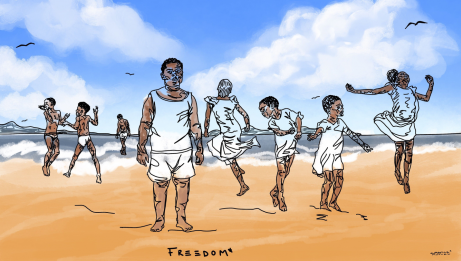 In-person event

English

Ages 13+

≈ 90 minutes · No intermission
Mature themes
Strong language
Gunshots
This multidisciplinary work blends original songs, stories, poems, anecdotes, and spoken word pieces from artists around the Niagara Region. Originally conceived as a digital compilation album, this will be its in-person premiere. An ensemble of actors and a live band will breathe life into this community conversation about joy, ancestral healing, generational trauma, police brutality, the complexities of Black identity, and the human right to be free.
b current Performing Arts
Founded by award-winning poet/performer and stage director ahdri zhina mandiela, b current Performing Arts was created to provide space for black artists to train, explore, challenge mainstream notions of theatre, and engage with the community. Over its 30+ year history, b current has expanded to support artists primarily from the black and brown diaspora and intersectional artists, developing scores of internationally celebrated artists and their works. As the "current" in their name suggests, the company is focused on contemporary and relevant approaches to performing arts that speak to the issues and interests of present-day racialized audiences and communities.