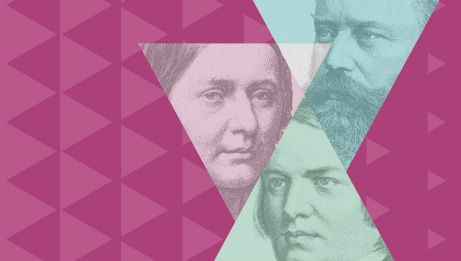 Music
Classical music
Talks
Pre-concert Talk
Festival events
In-person event

English

≈ 45 minutes · No intermission
*This conversation will be predominantly in English.
On closing night of FOCUS: Clara, Robert, Johannes, the NAC Orchestra will premiere commissions by Sarah Slean and Cecilia Livingston, who have created orchestral arrangements of Clara Schumann songs. Meet the composers in this pre-concert chat hosted by Hannah Chan-Hartley.
Signed to Atlantic/Warner Records at the tender age of nineteen, four-time JUNO nominee and modern-day Renaissance woman Sarah Slean has released 11 albums in over 10 countries worldwide—but perhaps the most astonishing aspect of her artistry is its breadth. Over her 25-year career, Slean has published two volumes of poetry, starred in short films and a movie musical (spawning two Gemini Award nominations), penned award-winning chamber works, held numerous exhibitions of her paintings and shared the stage with 10 of the Canada's professional orchestras.
Cecilia Livingston specializes in music for voice. She is composer-in-residence at the Canadian Opera Company and was composer-in-residence at Glyndebourne Opera (2019-2022). Her music is driven by melody, mixing styles from minimalism to The American Songbook to create work that is lyrical and unsettling.
Hannah Chan-Hartley is an exciting musicologist who specializes in communicating about music to audiences in engaging, and innovative ways. Often acting as a bridge between the classical music industry and popular and academic settings, she's active as a writer, speaker, program book editor, content producer, and instructor with various organizations, including Canada's National Arts Centre Orchestra, Detroit Opera, and the Barnes Foundation in Philadelphia.
***
Pre-concert talks at Peter Herrndorf Place in the National Arts Centre are free and open to the public.
Consult our event calendar for the full lineup of concerts, talks and events in the NAC Orchestra's season-opening festival, FOCUS: Clara, Robert, Johannes.
***
This talk pairs with the following events: