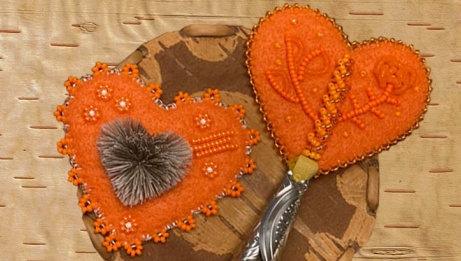 Indigenous arts
Workshops
Come and contribute to this community art project that honours all the Indian Day School survivors. Participants are invited to create an orange heart in memory of these resilient survivors.
During this drop-in workshop, we welcome participants to design an orange heart using beading and painting while learning more about Indian Day Schools. These hearts will then be used to create a collective art piece that will be displayed at the end of the workshop.
All materials are included in the cost of the workshop. You may leave a heart and take a heart that you create.
This event runs from 11:00 am to 4:00 pm but participants can drop in at any time. At the top of each hour, we will demonstrate some basic beading skills that can be used to make your heart.
This workshop is created and facilitated by Emily Brascoupé.
Indian Day Schools operated for over a century. The Canadian Government with the Roman Catholic, Anglican, Presbyterian and United churches operated over 700 schools across Canada. These "schools" were used to colonize and disrupt our culture by preventing Indigenous communities from teaching their own knowledge and language. Children who attend Indian Day Schools faced verbal, physical and sexual abuse. Indian Day Schools have caused intergenerational trauma and contributed to the loss of language and culture in countless families. This project is for all the children who attended these schools, faced this abuse and persisted! We honour you!