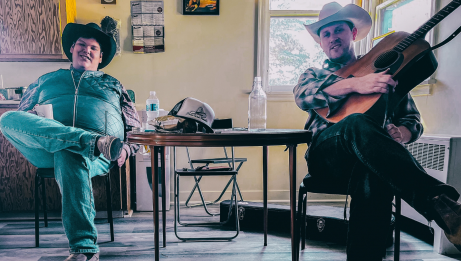 Music
Roots music
Country
In Austin, Texas in the 1970's there was Guy Clark and Townes Van Zandt. Fast forward 40 years and you have Canadian songwriters Richard Inman and Zachary Lucky picking up the thread that Townes and Guy left behind.
From the Canadian Midwest you have two of Canada's foremost independent roots songwriters, Richard Inman and Zachary Lucky, who've both been cutting their teeth in bar rooms and theatres across the country and around the world for over ten years. They're both slowly becoming the things of legend and for the first time ever they will be performing on stage together - for their "At The Kitchen Table" tour. They'll be trading songs, sharing the stories behind those songs and shooting the breeze. A candid chance to see these two songwriters in their prime, together on the same stage.
Road-weary, dusty and worn down from thousands of miles, hundreds of shows a year, from Canada to Denmark, Germany and back, Richard Inman is an authentic storytelling troubadour. Playing for thousands at festivals or dozens in a smoke filled back road bar in rural Saskatchewan, Inman's honesty has connected him to a devoted cult following and cemented his place as a Canadian songwriting giant.
Zachary Lucky is unapologetically old-school country, armed with a husky, baritone voice - He often receives comparisons to songwriters such as Gordon Lightfoot and Kris Kristofferson. He sings of Canadian places and people as knowingly as he might Townes Van Zandt or the Rio Grande. It's a relatable show on many levels and conjures universal feelings that have passed through our collective timelines. Already hailed as a master storyteller by outlets ranging from No Depression to The Globe and Mail, Zachary is becoming a legend in his own right and has safely reserved his spot at the table of Canadian roots royalty.