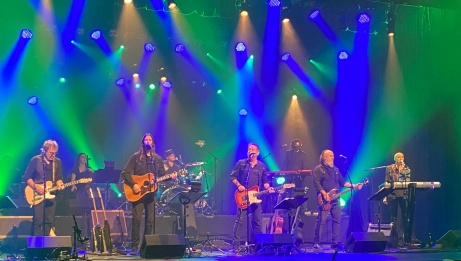 Hotel California
When Glenn Frey passed, we were all left scrambling for an answer.
It was just after David Bowie had passed, and there was a sense of mild panic.
It was as though the music we all grew up with was coming up on it's expiration date.
The Eagles are the greatest American band.
Inside of CAL we've had long talks about this. Some argue for the Doors - others for CCR.
But it's the Eagles. They sold the most records and their songs endure
and will continue to endure for generations to follow.
We all have our personal image of what the Hotel California looks like.
We can see ourselves in the lobby, we know what the staff looks like. We feel the vibe.
That's the secret ingredient in making a Classic Album - being able to insert yourself into the album.
Hotel California is one of the greatest albums ever made.
There's a reason why 'New Kid in Town' won a Grammy.
The deep cuts - the ones that don't get radio play
those are the ones that are like finding gold on a beach.
'Wasted Time' is the ultimate heartache song.
'Pretty Maids All in A Row' is Joe Walsh's tour de force.
And 'The Last Resort' should be taught in schools.
Classic Albums Live is simple in it's quest: note for note - cut for cut.
When you have amazing songs, a perfect album and a deep love of music - there's nothing else needed.
'Hotel California' features CAL at it's best.
We plan to continue to pay this great work of art the ultimate respect.
Craig Martin
Classic Albums Live
Founded in 2003 by Craig Martin, Classic Albums Live takes the greatest albums and recreates them live on stage - note for note, cut for cut, using the best musicians. "Think of it as a recital," says Martin, "these albums are historic and stand the test of time." Forgoing costumes and impersonations, Classic Albums Live has found success in concentrating solely on the music; "We created something that endures and connects. These albums are sacred to people. We deliver exactly what we promote - 'note for note, cut for cut' accuracy."
With 100+ shows a year across North America, Classic Albums Live has seen massive success in performing arts centres and theatres. Fans in Texas, Florida, California, New York and central and east coast Canada have all continued to support the series and make it a sustaining, successful show.