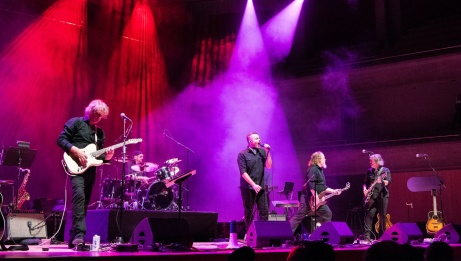 C.C.R. Chronicle Vol 1
do you like rock 'n' roll?
grooving?
singing along?
feeling good?
then come on down to the corner
and get on the good foot with the CAL CCR show
all hits
it's incredible how many hits john fogerty wrote
all within the span of 2 years
i often state that the eagles are america's best band
perhaps it's creedence?
we take this music seriously
we learn it note for note
and then perform it
but the secret ingredient in our performance
is the vibe on stage
this music connects you to your other bandmates
kind of like a pack mentality
sure we're just strumming a G chord at times
but the wall of sound that rises up from that chord
feels like a wave of good vibes
this show is as close to church as CAL gets
the communal feeling
and the warmth of nostalgia are palpable
we have to tell the ushers pre show
to just let people stand up and dance
it's that kind of a show
craig martin
founder
classic albums live
Founded in 2003 by Craig Martin, Classic Albums Live takes the greatest albums and recreates them live on stage - note for note, cut for cut, using the best musicians. "Think of it as a recital," says Martin, "these albums are historic and stand the test of time." Forgoing costumes and impersonations, Classic Albums Live has found success in concentrating solely on the music; "We created something that endures and connects. These albums are sacred to people. We deliver exactly what we promote - 'note for note, cut for cut' accuracy."
With 100+ shows a year across North America, Classic Albums Live has seen massive success in performing arts centres and theatres. Fans in Texas, Florida, California, New York and central and east coast Canada have all continued to support the series and make it a sustaining, successful show.