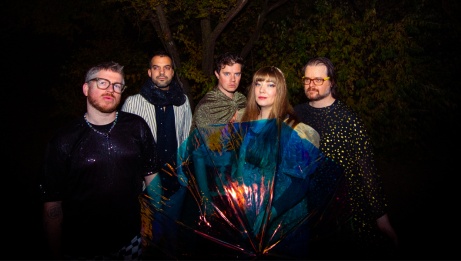 Featuring:
Aline Homzy - violin
Michael Davidson - vibraphone
Thom Gill - guitar
Dan Fortin - bass
Marito Marques - drums
Aline Homzy is an award-winning violinist and composer. Her music has been played all over the world and most recently, the Toronto Symphony Orchestra selected one of her string pieces to be played as part of the "Explore the Score" program. Aline is one of Canada's finest jazz violinists and was a finalist for the 2022 Toronto Emerging Jazz Artist Award. She is releasing and touring her first project as a leader, "Aline's étoile magique", this summer. This is a ground-breaking collection of music featuring the violin and improvisation as well as unique compositions.
Aline's focus on community flourished when she was awarded the highest points (2018) for the TD Discovery Projects award. She presented a concert featuring 4 women-leaders who improvise in different styles for a sold-out show at the Canadian Music Centre. She started to understand how prohibitive the arts are to low-income families and individuals and made efforts to include audiences of diverse financial backgrounds. Another aspect of this project was to highlight how improvising musicians rarely get paid a fair wage for their work.
In 2021, Aline collaborated with her MP Julie Dzerowicz to showcase musicians in her political riding, to offer sustenance to musicians and art for the public through her new series, Sounds of Davenport. This beautifully captured video-concert features over 30 musicians and artists residing in Davenport and playing original music.
In September of 2022, Aline attended the prestigious Hambidge Artist Residency in Georgia, USA and was awarded a distinguished fellowship to write a suite with French lyrics reflecting growing up in a French-Canadian household.