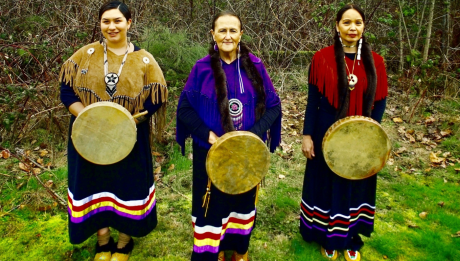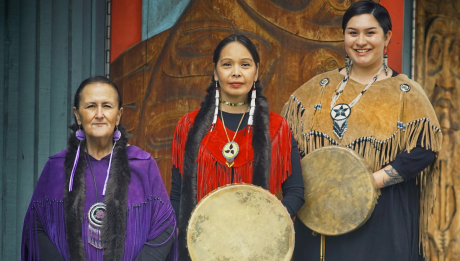 Indigenous arts
Music
Singer/Songwriter
Workshops
In-person event

English

≈ 40 minutes · No intermission
Join us Thursdays this spring for Jukebox Lunchtime Concerts, a free music filled midday break in our sun-filled public spaces. With great selections of music and no coins needed, it's a perfect way to refuel for the rest of your day.

This week's Jukebox artists are Iskwew Singers:
From Mexico City's Ollin Kan World Music Festival to Sarawak, Borneo's Rainforest Festival, Iskwew Singers (pronounced Is-kway-yo) are on the move!
Formed in Vancouver, the ensemble was created to perform in 2006 in Pau, France for the First International First People's Festival and Forum. They have continued gracing stages locally, nationally and international ever since that original festival!
Iskwew Singers are a trio of First Nations women who create and perform songs in the plains tradition that tell stories of the connection to the earth, the Creator and one another. The heartbeat of mother earth is heard through their hand drums, underscoring a message of culture from a people who have survived the impacts of colonization.
Coming from the Cree, Nation Shakti Hayes is joined by Métis singer Sandy Scofield and Cree singer Kelsey Wavey – each has an active career in other forms of music and art.
Through Iskwew, these powerful singers bring the songs and sounds of their rich and vibrant culture to the ears of the world. Songlines describes their vocals as "glorious and thrilling."
The Georgia Straight says, "When the three sing together, their collective joy and pride is magical. They're all strong women, and powerful ambassadors for First Nations culture." Ethnocloud.com, world music site says, "A fantastic Canadian trio of First Nations women!"

Post show Workshop:
Following the show, please join us in a workshop to find out about our music and instruments followed by learning a song!