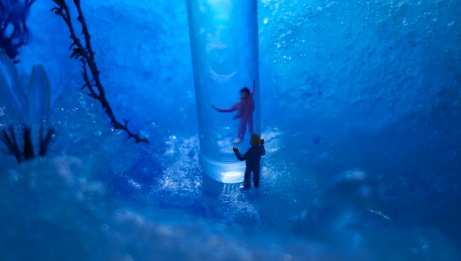 In-person event

Français

≈ 60 minutes · No intermission
World Premiere
NAC Co-production
After White Out and La chambre des enfants, L'eau du bain theatre company is back with a spellbinding new work, crafted of smoke and light, that brings to life a jewel of Nordic literature, a story of a whirlwind friendship that penetrates us through the pores of our skin!
In 1963, Norwegian cultural icon Tarjei Vesaas published a timeless coming-of-age story about a friendship between two young girls that ends tragically at the moment of its birth. Unn disappears into a forest of frost, a natural ice palace at the base of a frozen waterfall, while Siss remains in the land of the living. Left alone, she stubbornly guards the memory of her soulmate, resisting the healing of the heart and the restorative work of time. But the cycle of the seasons goes on, the ice continues to melt ...
This tale for all audiences comes to life through an immersive concept that weaves a spell of disorientation, appearances and disappearances. Equipped with headphones, we enter this luminous otherworld. The permeability between audience area and stage is almost total, and this story of a fusional friendship immediately speaks to all our senses. It's impossible to stay frozen.
*80 tickets only per performance!
For all audiences. Dreamers age 8 and older are welcome.
***
Wearing headphones, you prepare to enter a surreal environment, a kind of forest of glittering mist. Immersed in this world shaped by cold and ice, you hear the story of an intense friendship between two young girls, Unn and Siss—a friendship that ends abruptly at the very moment of its birth. And your heart starts to beat in time with these two soulmates whose connection not even separation can break. A tear freezes. The window fogs up. A lacework of frost. Suddenly, a ray of light shines through. A little rainbow appears on your cheek. No, it's not quite the end of winter, but perhaps a promise of gentler weather.