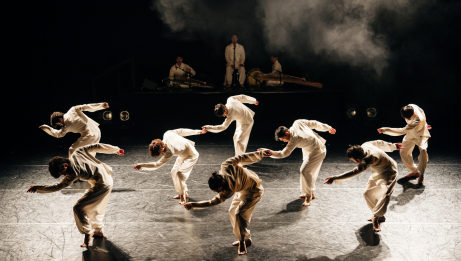 About <VELOCITY>
<VELOCITY> or 'Sok-do' in Korean, is an interpretation of various motions and speed with the human body. People fear the change in velocity as it increases, and find boredom as it decreases or stays the same. The piece expresses three different motions of 'Velocity' through movements of the body, featuring emphasized lines that are dynamic and curvy, unique to Modern Table's movement vocabulary. The bold body movements are created through the interaction with the air and the dynamism occurs through changes in rhythm. This characteristic allows the audience to immerse and feel the change in velocity. The performance is combined with an improvised modern presentation of the ajaeng (a seven-stringed Korean traditional instrument used in court music).
About Modern Table
Modern Table was founded by Choreographer Kim Jae Duk as a project-based performance group in 2007. After gaining recognition through Kim Jae Duk's works such as "Darkness Poomba" and "Awake", the company was established in 2013 with 10 members, and since then, it has successfully made its way to both international and domestic stage.
Modern Table, an all-male dance troupe, has managed to develop a style which is not only unique, but also inherently Korean. The company strives to provide synesthetic experiences and fresh impressions to the audience, including the appearance of dancers singing and the composition of works that break the boundaries between the stage and the audience. The company mainly performs contemporary dance and at the same time, stages musical, Pan-sori, and rock band performances that transgress borders between genres. Some of the company's renowned works include "Darkness Poomba", "Sokdo:Velocity", "Ham:beth", "Breathing Attack", Sinawi and "Men of steel".
Performances
2022 Buenos Aires Contemporary Dance Festival / Buenos Aires, Argentina
2020 Tanzmesse Internale 2020 / Dusseldorf, Germany
2019 OPEN LOOK International Dance Festival / St.Petersburg, Russia
2019 The Place / London, UK
2016 SIDance / Seoul Arts Center, Towol Theatre / Seoul / Korea
Choreographer/Composer Jaeduk Kim
Dancers Jaeduk Kim, Eoreen Lee, Ungi Lee, Hansol Kim, Namhoon Kim,
Hwiseong Jo, Cheolhan Jeong, Jaeyoon Song, Seyeong Eom
Musicians Sukgui Yoon(Vocal), Soli Kim(Ajaeng), Hyeongyu Lee(Ajaeng)
Light Designer Janghan Lee
Sound Director Seongeun Heo
Producer Mijin Lee
Produced by Modern Table Dance Company