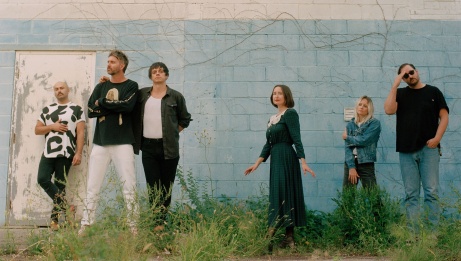 The basic structural facts of rock band July Talk are this: two front people, Leah Fay Goldstein and Peter Dreimanis, surrounded by whiplashing guitarists Ian Docherty and Josh Warburton, and double drummers Danny Miles and Dani Nash. For this compulsively DIY, rigorously self-realizing group, the essence of July Talk has always been the tension between precision
and chaos.
What goes on between these bodies, in that kinetic, staticky, sticky space, is where the truth of July Talk takes shape. On stage, July Talk unfurls and explodes. The action pings from slo-motion commotion to back-bendy communion, fluid (as in bodily) and liquid (as in the dark goo phase of metamorphosis). Things get weird, occasionally grotesque, always enthralling.
Even in the stark orderliness of black and white, July Talk has always been a work in progress. More accurately, it's a work of progress, a communal pursuit of limitlessness as a mode of being. For a decade, July Talk has continued in its relentless project to know itself, a fundamental baseline from which to access raw ecstasy and agony. With Remember Never Before, the most potently yet inventively "July Talk" album yet, the band returns - changed - to where they began.